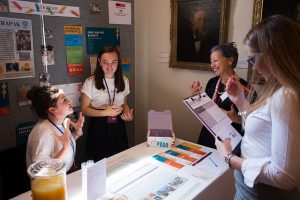 The next generation of innovators have been named at the 2018 TeenTech Awards at the Royal Society. Winning concepts include a medication dispenser for Alzheimer patients, drones that detect and absorb pollutants, an app that calculates a safe way home from school and a support for Parkinson's sufferers. The Awards challenge students to use the power of science, technology and engineering to create innovative solutions to society's biggest issues.
269 schools registered to take part in the Awards and over 1500 students were involved from schools across the UK and Europe. Sumair Mohammed from Evelyn Grace Academy was named teacher of the year and Dalziel High School collected the People's Choice Award for its reinvented black box which was presented by Dame Sue Owen and Navroza Ladha from the Department for Digital,Culture,Media and Sport.
The ceremony was hosted by 2017 winner Thamina from Green Spring Academy and 2015 winner Jack from Reading School.
Each innovation was assessed by panels of over 40 judges consisting of celebrities, industry experts, journalists and eminent academics, including British theoretical physicist, Professor Jim Al-Khalili OBE, author, science and tech reporter Dallas Campbell, President of techUK Jaqueline de Rojas, Founder of Unruly,Sarah Wood, Rachel Neaman, cyber security expert Jessica Barker, young entrepreneur Ben Towers and Head of BBC Science Unit, Andrew Cohen.  The winners will present their innovations to patron of TeenTech HRH Duke of York KG in a ceremony at Buckingham Palace in the Autumn.
You can view photos from the day here.
TeenTech co-founder and Tomorrow's World presenter Maggie Philbin OBE says: "The 2018 winners can be really proud of their achievements. The standard of entries was exceptionally high this year and demonstrate that with support from the TeenTech Programme, teenagers can conceive and create incredible ideas and projects. This is vital in creating enthusiasm for engineering, science and technology in schools so that we can inspire the next generation of innovators."
Schools and students taking part in the TeenTech programme are provided with resources and year-round support including access to a team of expert mentors. They can also attend a series of live innovation events and workshops with more than 200 scientists, engineers and technology pioneers from companies such as Accenture, Atkins, Chartered Institute of Library and Information Professionals, GSK, JVC Kenwood, Symantec, FDM Group, Cross Country Trains, Rolls Royce and Lloyds Banking Group.
Teacher Nick Bury from Minehead Middle School says: "It is a fantastic opportunity for children from a very rural background to experience technology at an outstanding level."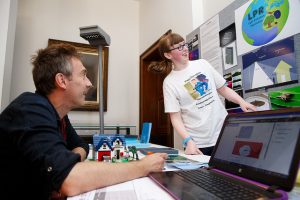 Louie Evans of Bromley High School says: "This has been a great opportunity for our pupils to take a lead in their own project and the first steps to being leading female engineers, designers or scientists."
Maggie says that the real impact of the initiative can be measured in the changes that take place in the schools that take part, she explains: "What we've witnessed over the years is that having students taking part, whether they win or not, makes a real difference to the whole school community; they inspire other children to want to do the same.
"Many schools started out tentatively with a small group of students and are now involving whole year groups such is the demand to take part from their students. In many cases, this has lead to a rise in students wanting to study design and technology, and engineering."
2018 Winners
Years 7 – 11
Energy
BioPump from Loughborough Grammar School, Loughborough
An electronic  water  pump  that  is  completely  self-sufficient  and  environmentally  friendly.

Future of Rail

Travel Anywhere Case from Ranelagh School, Berkshire
A smart case that combines a mode of transport,  light  travel  case,  work  space  and  seat,  space  to  hold  an  iPad  and  morning  coffee.

Health (joint winners)
Copper Assist from Sheffield High School, Sheffield
Created with the intention of trying to prevent infections after surgery.  The product is a bandage with a concentrated  patch  of  copper.
Simple Reminders from The Greenwich Free School, Greenwich
A reminder app  for  families  that  links  with  a  screen  inside  a  cushion  for  patients  with  onset  dementia.

Education
Simpletexts from Sandbach High School, Sandbach
An app  that  will  scan  text  which  the  user  is  finding  confusing  or  complicated  and  automatically  simplify  and  summarise  it  to  a  standard  which  is  understandable

Wearable Tech
Echolocanimals from Bromley High School, Bromley
Earrings  that use  ultrasound  echolocation,  alongside  the  processing  power  of  a  phone,  to  give  visually  impaired  people  information  about  their  surroundings.

Music, Media and Entertainment
The Augmented Reality Comic Book from Evelyn Grace Academy, Lambeth
Physical  comic  book  that can  be  used  with  a  smartphone  app.  Hovering  a smartphone  on  a  page  will  bring  to  life  the  characters  and  generate  a  videogame  that  appears  in  your  environment.

Environment
Geotex from Farlingaye High School, Suffolk
Intelligent  flying  drones  that can  identify  pollutants  and  absorb  them.  They  detect  and  analyse  pollutants  and  create  paths  of  trends  in  polluted  areas  autonomously.

Safety and Security
Project School from Channing School, London
An app that calculates  a  secure  route  for  school  children  to  get  home  safely.

Fashion and Retail
Fashion Fusion from Farlingaye High School, Suffolk
An  app  which  logs  your  clothes  as  you  buy  and  can  be  recalled  to  ensure  no  wastage.  It allows you  to  select  items  based  on  your  mood,  event  type,  etc.  and can  help  with  selling  unwanted  clothes  easily  and  suggesting  what  clothes  may  be  suitable  for  you.

Design and Construction
Contain Your Future from Healing School, Lincolnshire
A sustainable  housing  project  using  old  shipping  containers  to  create  affordable  housing  for  the  homeless  in  Grimsby.  The  project  aims  to  consider  the  different  elements  of  people's  lives  in  order  to  create  an  environment  in  which  they  want  to  live  and  make  their  first  steps  out  of  poverty.

Future of Food
AFRAPAK from Thurston Community School
AfraPak  is  a  non-profit  catering  solution  providing  nutritional  aid  to  those  in  impoverished  and  famine  areas  of  Africa.

Future of Transport
LED Skateboard from Minehead Middle School, Somerset
New  skateboard  that  features  LED  wheels  and  rims,  speakers for playing music

Digital Skills
Memory Medication from Horbury Academy, West Yorkshire
Medication  dispenser  that  will  ensure  that  people  with  memory  problems,  such  as  Alzheimer's  disease,  take  their  medication.

Manufacturing
Light Pollution? Why? from Amelia Roberts
An  affordable  smart  attachment  for  existing  lamp  posts to reduce light pollution:  LPR – Light  Pollution  Resolution!  Cutting  off  the  glare,  but  still  providing  sufficient  lighting  for  roads  etc.

Research and Information Literacy
Device to identify sugars in foods from The Ladies College, Guernsey
Research  on  the  amount  of  sugar  and  vitamin  C  in  fruit  drinks  which is then  used  this  to  design  a  machine  that  will  tell  diabetics  whether  a  fruit  juice  has  more  or  less  than  5g.

Tech for All
Solar Pi from St George's School, Birmingham
Raspberry  Pi  based  solar  powered  computer  is  designed  to  teach  people  about  coding  and  digital  skills  in  the  developing  world.
Years 12-13
Best Innovation – Concept
Aether Motion from WMG Academy, Coventry
New  medical  aid  to  address  the  psychological  issues  of  many  patients  and  bring  about  much  needed  change  in  the  design  of  today's  medical  aids  and  physical  impediment  support  products.

Best Innovation – Model, prototype or product
Anti-motion Stabiliser from Mill Hill School, London
Provides  a  way  of  supporting  those  suffering  from  Parkinson's  or  other  disabilities,  to  achieve  a  useful  level  of  physical  dexterity  when  undertaking  simple  domestic  tasks  that  previously  were  affected  by  involuntary  shaking  or  tremors,  and  reduced  muscle  capability.

Best Research Project
Under-representation of women in computer science from Oakham School, Rutland
An  inquiry  into  the  causes  of  the  under-representation  of  women  in  computer  science.

Data Science (joint winners)
Sensor Track from Sandbach High School, Sandbach
A testing rig   composed  of  80  infrared  sensors  positioned  every  20cm  along  the  16m  track.  All the  sensors  are  grouped  and  connected  through  Arduinos,  which  measure  the  time  intervals  between  the  them  being  tripped.  Data is  collected  and  analysed,  through  the  creation  of  velocity  time  graphs,  which  then  allowed  modifications  to  be  approved,  changed  or  discarded  based  on  their  performance.
Vertigo from Sutton Grammar School, Surrey
A data logger used to  track  position,  acceleration  and  rotation  of  an  object  in  a  world  frame  of  reference.  The device can be used to provide real-time feedback to wingsuit flyers on their angle of attack, using data manipulation scripts created in MATLAB.
People's Choice Award
Cloud Data Storage from Dalziel High School, North Lanarkshire
Planes go missing and sadly we can't prevent this.We aim to create a world in which when planes go down we answer the questions that families and friends have. Our re-invented black box will have the ability to stream important data and location information right back to the people who need it most.
Teacher of the Year
Mr Sumair Mohammed from Evelyn Grace Academy