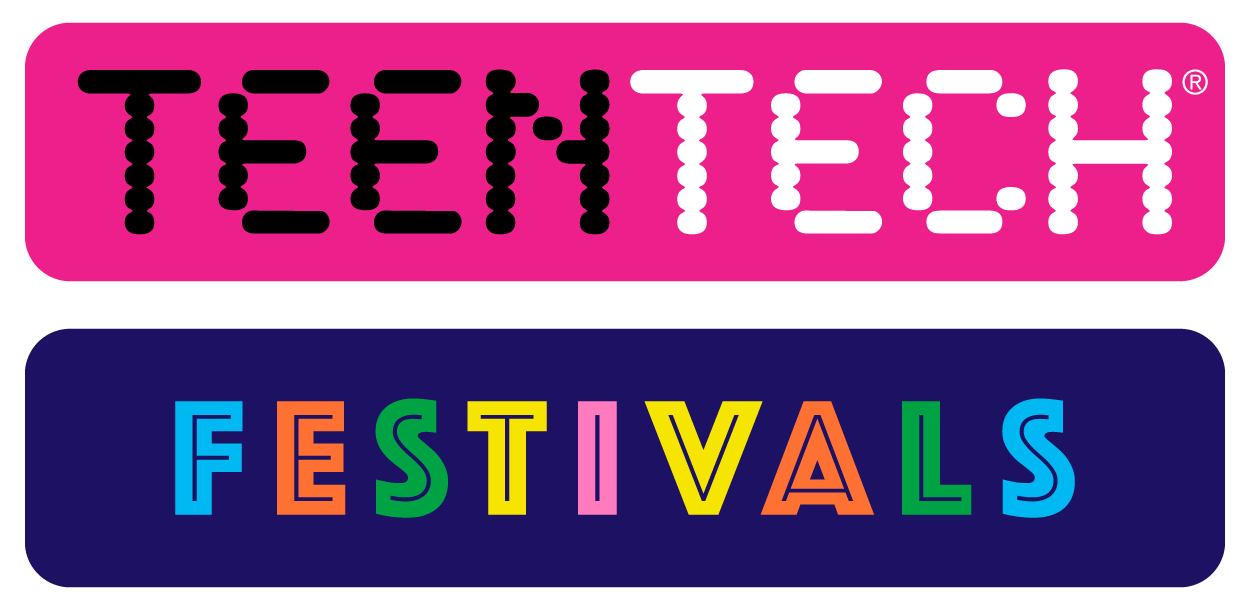 From Hampshire to Humber, from Galway to Swansea and from Telford to Milton Keynes, our TeenTech Festivals bring together students across a region, and up to 150 industry specialists from a wide range of companies, for a day of hands-on challenges and experiments.
What is a TeenTech Festival?
TeenTech Festivals are highly interactive and designed to inspire young teenagers and their teachers about the contemporary industries shaping their future.
These TeenTech events give students and teachers from across a region the opportunity to try their hand at immersive challenges and experiments, to handle cutting edge technology and, most importantly, to spend time with engineers, technologists and scientists from a wide range of companies influencing their 21st-century lives.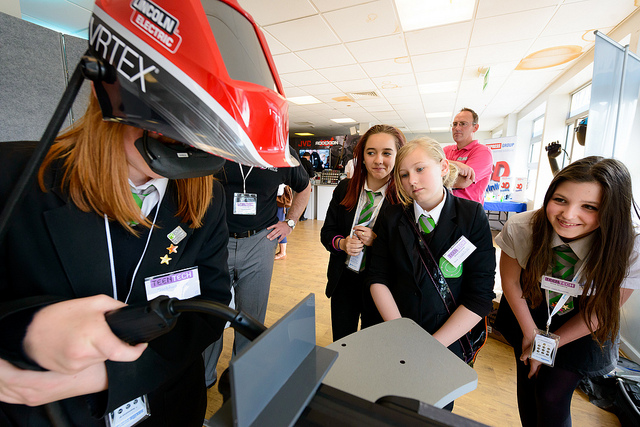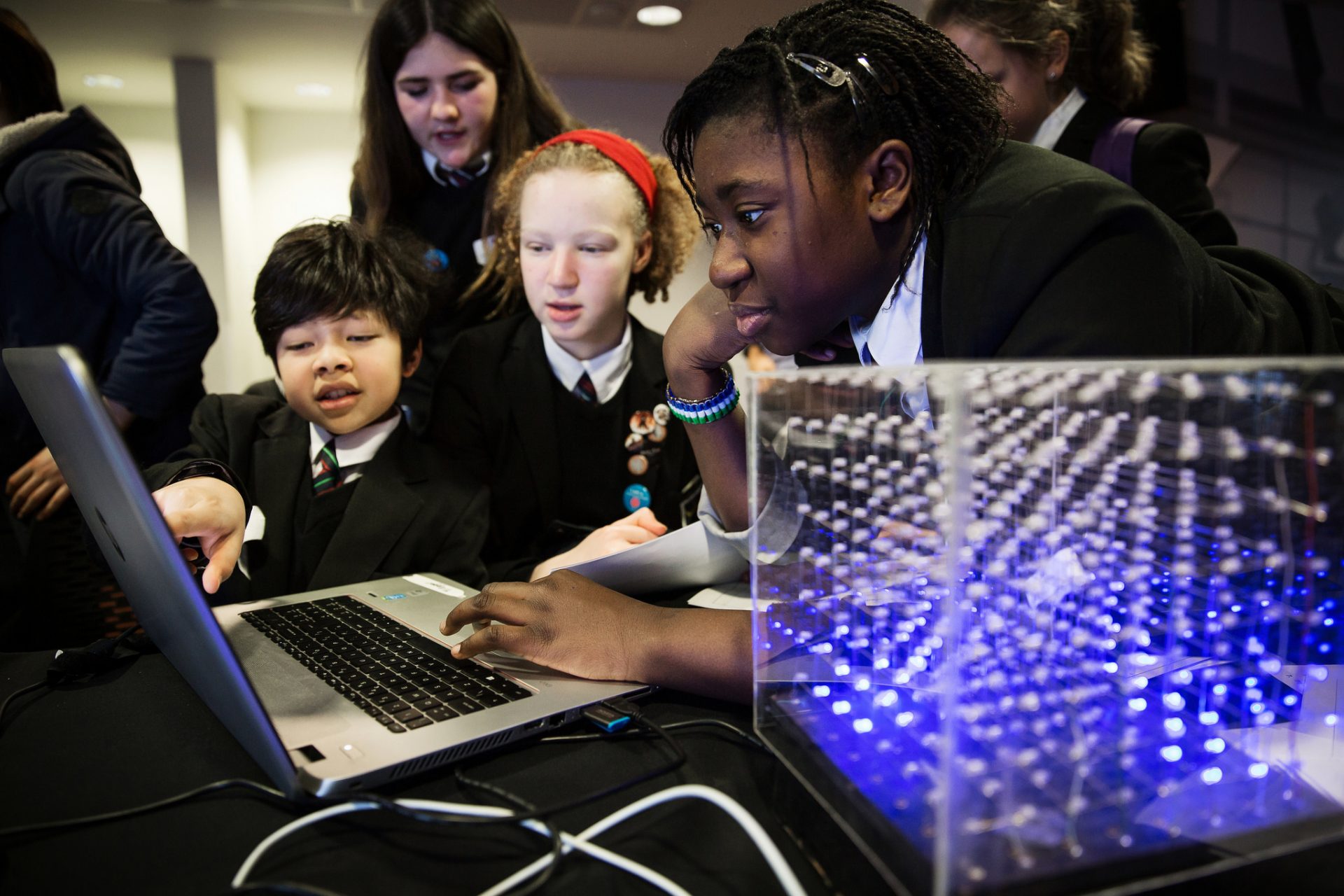 Impact
We have measured the impact of events since 2008 and know there is a real shift in student perceptions, particularly amongst girls. Events run right across the UK and the Republic of Ireland, each with its own regional steering group. The event day is just part of the initiative with schools working on projects both pre and post event.
Feedback from teachers and companies is overwhelmingly positive with 98.5% schools who attended a TeenTech event saying they will definitely attend another.
It is estimated that more than three-quarters of the jobs that will exist in 2030 don't yet exist! What we do know is that jobs in the future will have a technological or scientific component, and will require transferable skills such as creativity, teamwork, computational thinking, and communication.
TeenTech Festivals are a powerful intervention before students make GCSE subject choices, dispelling gender stereotypes and shifting perceptions of careers teenagers may have considered "difficult", "geeky" or "boring".
Support our TeenTech Festivals
If you are a company, university or organisation that would like to run an activity or provide ambassadors at our festivals, please register and we will send you full details.
An Opportunity to Innovate
Pupils will work in teams, in roles aligned with a start-up company, to become the inventors of tomorrow in an hour-long workshop and challenge! Students will be designers, developers and marketing experts, using sensors, data and cutting edge technology, to tackle real-world problems! Following the TeenTech Festival, all students will have the opportunity to develop their ideas further and enter the TeenTech Awards.
Industry Insights
Pupils will meet, and talk to real-world innovators, large technology companies, and industry leaders. Pupils get an understanding of the industry, and can participate in simulated tasks that illustrate the real work that goes into science and technology. They will also interact with regional companies, showcasing the wide range of exciting science, technology and engineering companies that the students may not know exist.
Challenges
Pupils will compete in simulated tasks that demonstrate real world work by major science and technology companies, and prizes are awarded. This is a chance to experience innovations in science, technology and engineering, and a chance to show students that they have the skills required to be successful in these areas.
Upcoming TeenTech Festivals
TeenTech Sussex
Thursday 16th November 2023
(With a 60-minute virtual TeenTech Innovation Live event on Thursday 19th October 2023)
TeenTech Cardiff
Thursday 7th December 2023
(With a 60-minute virtual TeenTech Innovation Live event on Tuesday 21st November 2023)
TeenTech MTI
Thursday 8th February 2024
(With a 60-minute virtual TeenTech Innovation Live event on Tuesday 16th January 2024)
TeenTech Roehampton
Thursday 25th April 2024
(With a virtual TeenTech City of Tomorrow Live Build Day event on Tuesday 19th March 2024)
TeenTech Lancashire
Thursday 20th June 2024
(With a 60-minute virtual TeenTech Innovation Live event on Tuesday 6th February 2024)
We will be announcing more 2023/2024 TeenTech Festival dates shortly. Please check back soon.