Doncaster Racecourse transformed into science, technology and engineering showcase
TeenTech celebrates five years of collaborating with companies, universities in South Yorkshire to inspire and support the innovators of tomorrow. 
25 schools from across South Yorkshire worked alongside over 150 scientists, engineers and technologists to get a taste of the reality of careers in technology and engineering, as they descended on Doncaster Racecourse on Thursday.
TeenTech South Yorkshire saw the innovators of tomorrow taking part in an exciting line up of activities and experiments at the venue – showcasing just how their passion and skills could lead to rich and fulfilling careers in industry.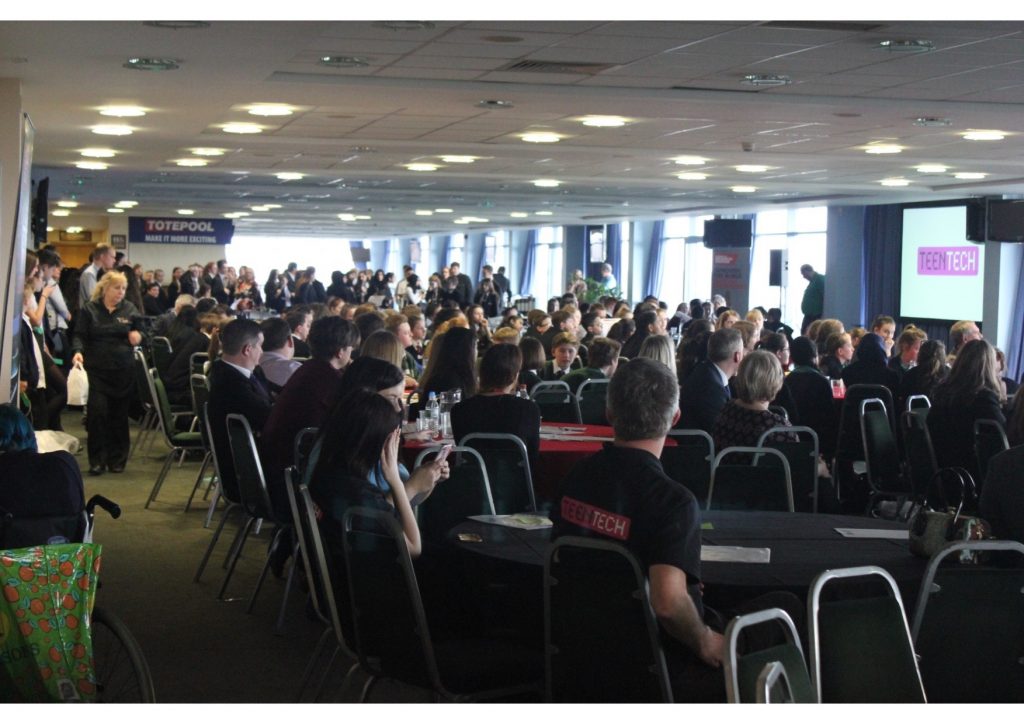 During the day, students aged 12 – 14 took part in a variety of challenges set up by key regional and national industry players including SKANSKA, Pegler South Yorkshire, Atkins, BBC, Sodexo, JVCKenwood and Network Rail. Tasks were set throughout the day to test the innovation and creativity of the young people, helping them develop a set of skills which can be translated in to the school environment and later into a career.
Students from Horbury Academy also took to the stage to share their own successful journey through the TeenTech awards process which not only took them to the Royal Society final but also "helped us understand so much more about all the different jobs out there and really developed our team working skills"
TeenTech uses insight from its events to shape its engagement around the country – its research shows that experiential challenges effectively change perceptions and provide a valuable insight to future jobs at a time when subject choices at school are most important.
Maggie said "It was terrific to see not only the excitement and energy but so many young people saying how their perception of contemporary industry had been changed. This is completely down to the strong collaboration between our supporting companies who help us bring technology and the career opportunities within it to life. We are also thrilled to see that some schools have now put more emphasis on these subjects as a direct result of participating in TeenTech. By working closely with both schools and companies we bring a more informed and up to date understanding of the many exciting opportunities out there for people with the right skills.
"With our research mission next year, we aim to actively bring these frank views of our young generation straight into the palms of the people in industry that can make that difference and shape the opportunities for these bright young minds before it's too late."
TeenTech has been made possible through sponsorship from leading partners including: Pegler Yorkshire, Schwihag, SKANSKA, Doncaster Council and Business Doncaster.
Andrew Webb, Rail Sector specialist for Business Doncaster said 'We're delighted to have been involved in TeenTech for the 5th year running. We are extremely proud of Doncaster's engineering heritage which continues to create great future employment opportunities for our young people. To be able to host the event here in Doncaster, help inspire students in such a creative way and support their future development is fundamental to our core values'
Maggie added "What's particularly great to see is how TeenTech is now very much part of the school experience in South Yorkshire. We've also watched industry volunteers take on more responsibility, those who were 'ambassadors' at the first event are now running activities and challenges with students. "
The South Yorkshire based event is just one of the many initiatives in TeenTech calendar. In January students from Barnsley reached the 'national showcase' for TeenTech City of Tomorrow and students who attended the Doncaster event are now registering for the TeenTech Awards programme.