Over the past ten years, TeenTech has organised a large number of Innovation Days, where students come together and take part in challenges set by technology and engineering companies.
TeenTech has responded to the changing world with a comprehensive Innovation Days at Home programme, where students aged 11-18 can connect, virtually, with industry experts. We have sessions coming up on Space and Future of Music, along with events with companies such as Rolls-Royce and Atkins.
Our first Innovation Day at Home was on the topic of Game Design with Kate Russell (gaming journalist, streamer and author) and Ali Maggs (TeenTech presenter, and game developer).
Last Tuesday morning students from all over the UK, and around the world, joined Kate and Ali for an introduction to game design. The session was focussed on getting students to think about how games are imagined and created, and included topics of inclusivity, accessibility, and inspired students to think about what games might look like in the future, exploring physical devices, augmented reality, virtual reality, wearable technology and more. We were joined by game composer Andrea Possee who talked about some of the creative roles in making games.
Kate and Ali set the students the challenge of designing their own game, considering their audience (Would they target gamers, or try to reach a new audience?), accessibility (Thinking about controls and commands and building for disabilities), inclusivity, character and location design, and gameplay mechanics.
We all came back together for a Live Feedback session on the Friday morning and Kate, Ali and the TeenTech team were blown away by the projects that were submitted.
We had some fantastic artwork and ideas that were spread across a range of genres and gameplay types, including some real innovations too!
Ineke, aged 11 from Cambridge, devised a game specifically around the idea of self-isolation.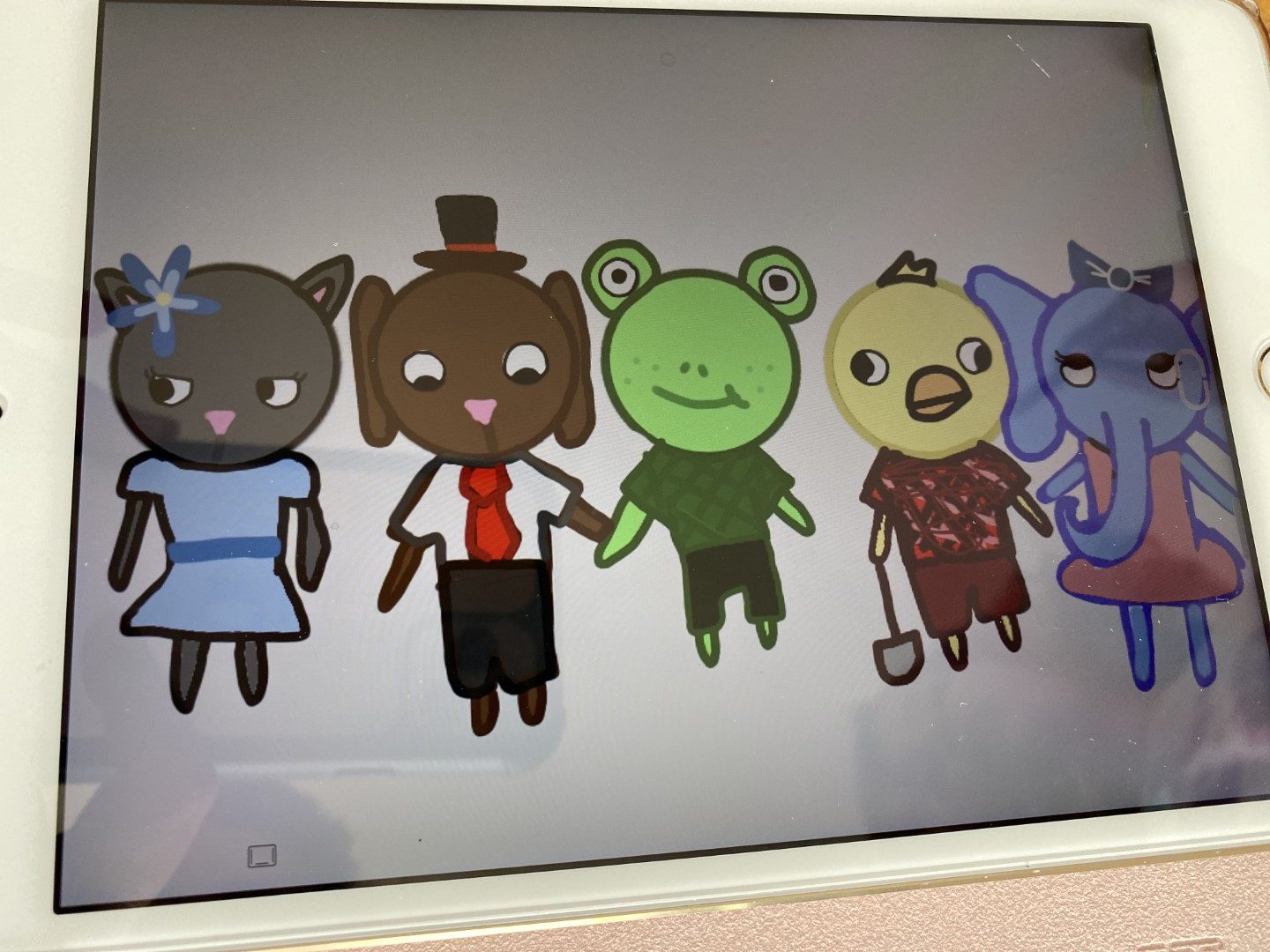 I've designed a fun, social mobile game that lets you play and talk with friends and family. You can design a character, join a team, explore the escape rooms and play lots of addictive mini games. I thought of this game because, right now, I haven't been able to see my family or friends so it would be fun to play escape rooms as my friends really like them.

There are animal avatars that you can personalise to fit your style. There are rooms to explore with puzzles to solve just like in real escape rooms. You will need detective skills in each room. You might be solving a crime to find the missing key to move to the next room.
Mia, Elyse, and Kian, aged 16 from Whitchurch, Hampshire, created Vibe, with some really impressive artwork. Vibe is an open-world game, with extensive character customisation, and is a game which you can really play in whatever way you want!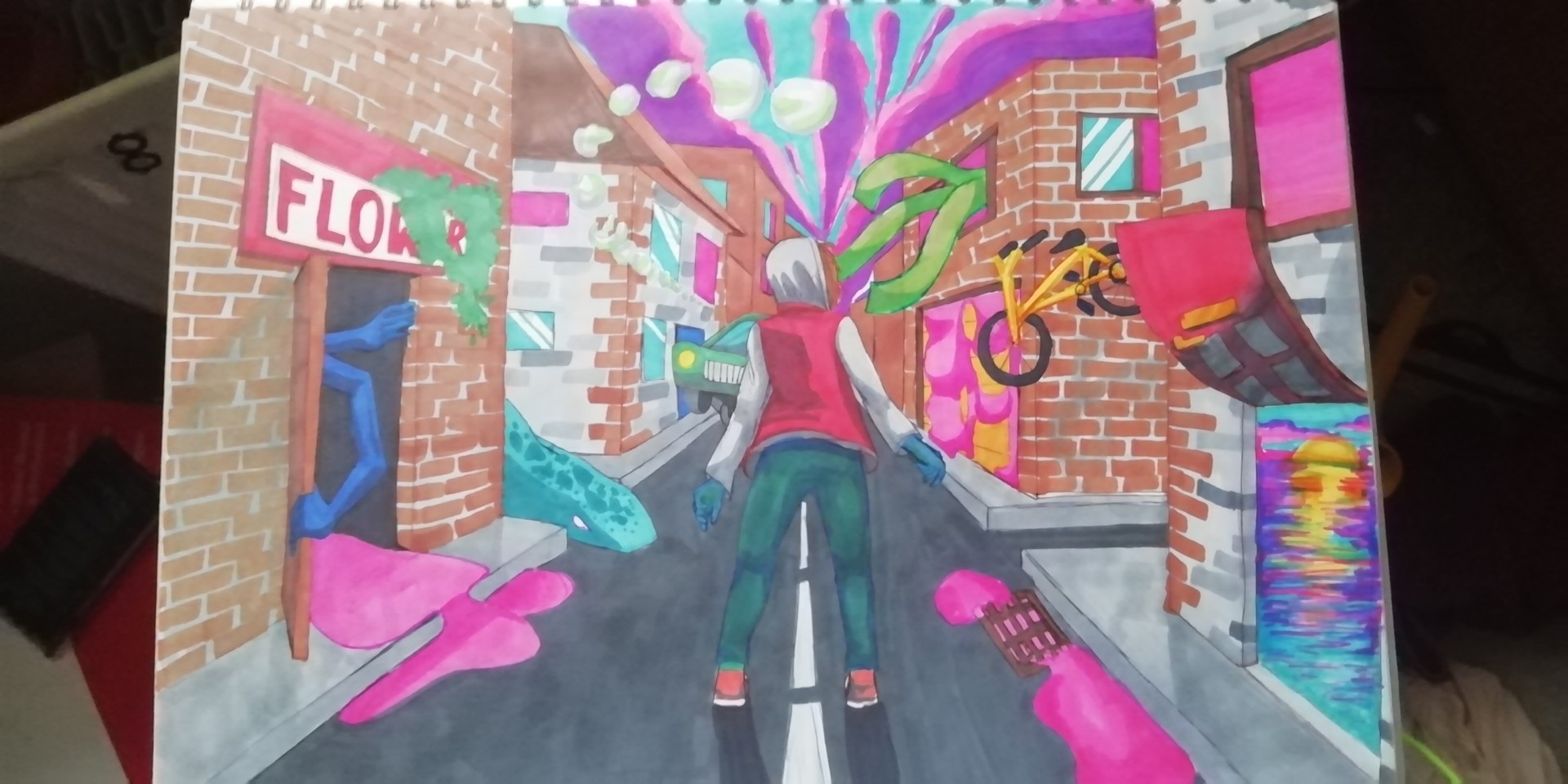 Vibe is a third-person action-adventure game with choices that affect your game. Will you choose to be a criminal and thieve your way to success or protect the city at all costs. Vibe gives you access to hundreds of different vehicles from jets to bin lorries as well as the ability to destroy absolutely everything you wish to. If you choose to protect the city, to what extent will you go to as violence isn't always necessary. And if that wasn't enough the further you play, the more risks you will have to undertake to achieve your goals as the world becomes increasingly more surreal. With every action you undertake your karma can rise or fall, affecting your relationships with other NPCs. With unlimited character customisations, you can create something unique that stands out from the crowd or blend in with the shadows. It's all up to you in this singleplayer or co-op RPG.
We also had an amazingly detailed project from Benjamin, aged 13 from Grimsby. He developed a really interesting history and sci-fi mash-up game, with a story with great depth, and really interesting characters which he'd described perfectly to us. Benjamin put so much work into his project, and both Kate and Ali thoroughly enjoyed reading through his work and could imagine this becoming an amazing Triple-A title.
Patrick, aged 15 from Whitchurch, Hampshire imagined an online multiplayer combat game based on a desert planet. Patrick thought about character design and was inspired by Mad Max and the Borderlands series.
Ahan, aged 12 from Whitchurch, Hampshire, came up with a movie-crossover game, where you can play with all your favourite movie characters. He was inspired by Ali and Kate showing gameplay footage from Sea of Thieves which reminded him of Pirates of the Caribbean.
I would have three characters in each team, and you can switch between each character. Each character has a certain amount of skills which can be stronger or weaker towards certain other characters.
Anushka, aged 15 from Whitchurch, Hampshire was inspired by fantasy books and dreamt up an action and puzzle game, with fantasy elements.
Rescue your world and save your people with the help of your friends in this multiplayer game. Help get rid of the evil shadowing the world from it's beauty and freedom by returning the rings back to the Crown of Everlore. You can rob and steal items from other teams and engage in battles. Play Resurgence today and become your own hero!
Samuel, aged 14, from Reading imagined an Augmented Reality game, with haptic feedback.
This is an Augmented Reality Game which works with an Augmented Reality headset and controllers, and a full haptic bodysuit. When you put them on, you will see the world but with some added extras. The world now turns into a massive RPG free roam game where you can explore the world looking for chests, dungeons, and virtual bosses. The haptic suit sends small amounts of electricity to places where you have been hit in the game or can stiffen up if you are using something in the game that takes strain.
We loved Samuel's idea that your in-game character would take your own height, weight, and stamina into account so you essentially played as yourself within the game!
Maulik, aged 14 from Reading, designed a game which takes you across different worlds. In each world, you can inhabit the objects and animals you come across!
In any world you can transform into some objects, allowing you to complete your goal. For example in the jungle you can transform into tigers, toucans, beetles and trees. Every world has a companion who joins your team and has a different skill.
We loved this idea!
Finn, aged 11 from The Weald, imagined a survival game.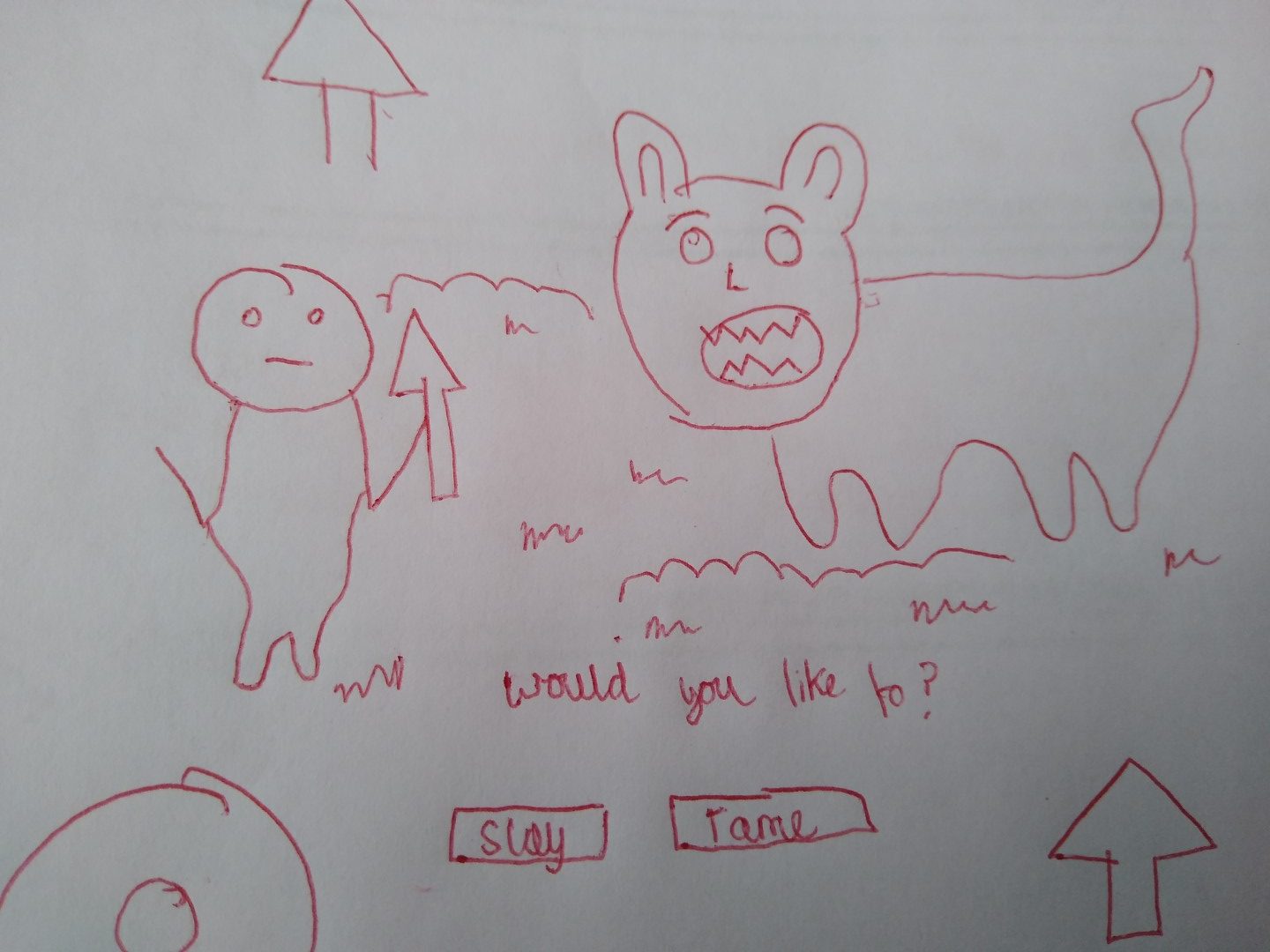 Find your way through a forest, making choices that could mean life or death, fighting monsters and taming animal friends. You have to live in the forest, having to decide what to eat, or what to pick, and figure out how to fight and who could become a friend!
Bramwell, aged 15 from Manchester, came up with a high-concept, massive online game that was about working together to help train an AI program.
This is a new game where you can teach and develop an AI program, which is then added into a neural network stored over the internet. A more advanced version is available for experienced programmers. You can watch as the neural net develops, and explore through it. The end goal of the project is to build a blank slate AI capable of learning and developing in the same way that a human does.
We felt this was an incredible version for a collaborative experience!
Halle, aged 9 from Billingshurst, created a really cute sounding game that we were instantly taken by!
Help Scissors save the world from a paper apocalypse. Upgrade your equipment and increase your skills before it's too late.

Two children were playing paper rock scissors. Paper was fed up with being beaten by scissors and plans to exact revenge by taking over the world.
Sava, aged 12 from Enfield, came up with another idea that we were in love with. It allows you to take on the role of a police officer, paramedic or firefighter. We felt that being able to play one of those roles and empathise with that character doing an important job, especially given the current situation, was such a lovely idea.
Ever wondered what it's like to be a frontline police officer, firefighter or paramedic or even a criminal? Welcome to Dalford County, a realistic, multiplayer, roleplay game where you can be a first responder, working with others to stop criminals and help the city with professional tools or be a criminal on the loose and work with others to rob shops and destroy the city!
Ben, aged 12 from Grimsby, designed what he would want a good Star Wars game to be.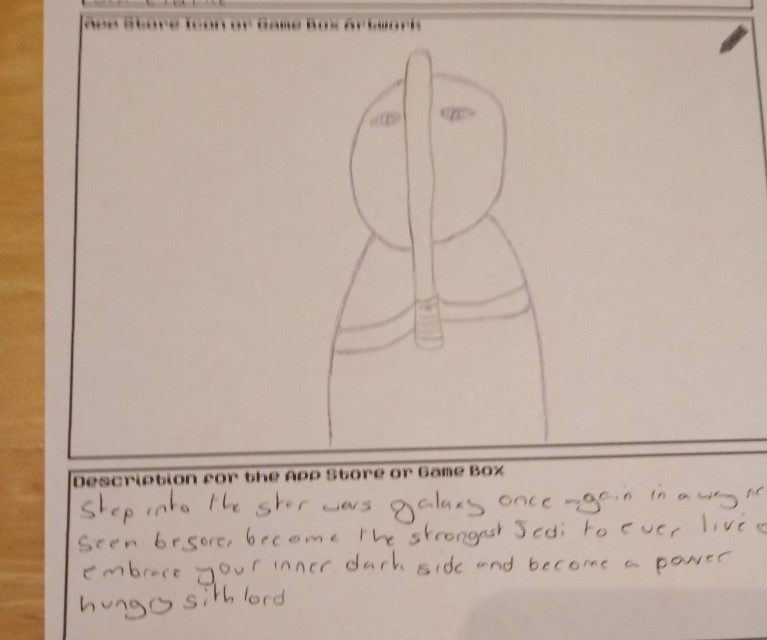 Step into the Star Wars galaxy once again in a way never seen before. Become the strongest Jedi to ever live, or embrace your inner dark side and become a power-hungry Sith Lord. You choose which path you take. You can replay the game and take a different journey. Learn Jedi ways to get through the levels and master puzzles set to progress further.
Zack, aged 12, from Stroud, came up with an idea for football simulation game where you get to experience the life of a footballer too, including experiencing the houses they live in. As non-sports gamers, Kate and Ali both through this would be appealing and help sports games reach a new audience.
Matthew and Robert, brothers aged 15 and 13, from Hampshire, worked together on a fun sounding game!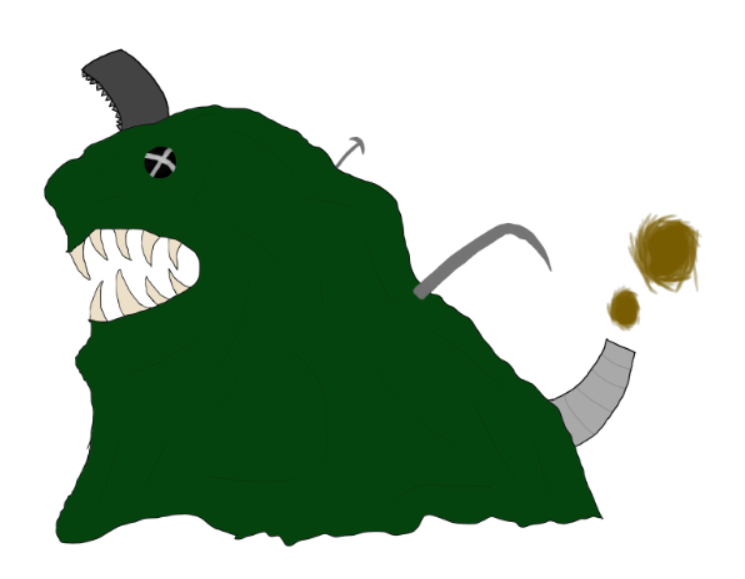 A cyborg created with a sense of logic to rescue people from accidents is trapped in an alternate world will he escape with the lives of mankind. The mutated fat burgs trap the human race in an alternate dimension and you must save them no matter what.
We loved the premise, and the artwork the brothers had created.
Ianthe, aged 10 from Derbyshire, came up with a detective game. She had told us on the Tuesday session that there was a lack of detective, crime-solving, puzzle games, so she created one of her own!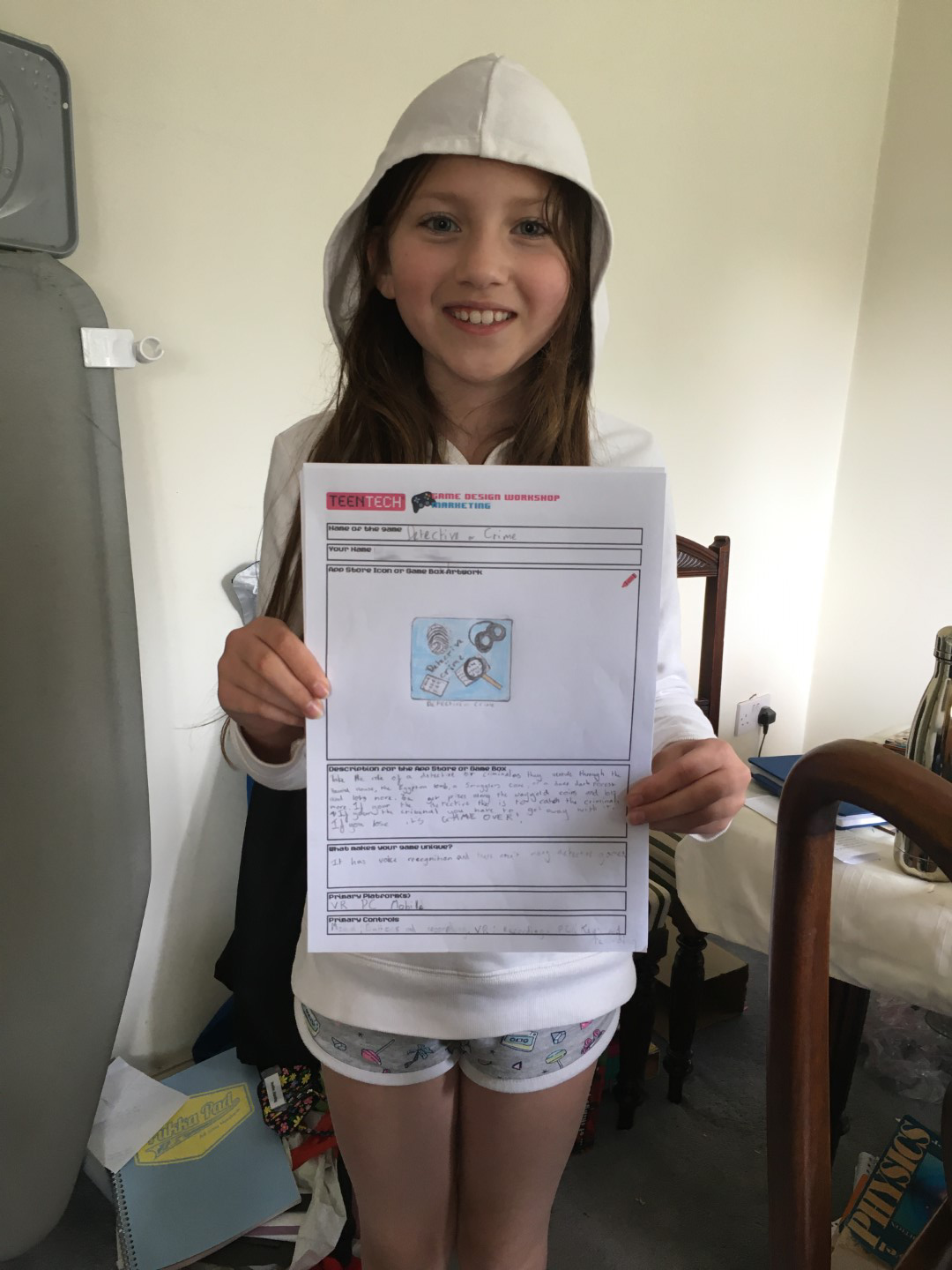 Take the role of a detective or criminal as they venture through the Haunted House, the Egyptian tomb, a Smugglers Cave or a Deep Dark Forest and lots more. You get prizes along the way, gold coins and lots more. If you're the detective the goal is to catch the criminal. If you're the criminal you have to get away with it. If you lose it's GAME OVER!
Kate and Ali loved the idea, and really liked the various locations Ianthe had imagined!
Kingsley, also from Derbyshire, imagined a game where you could battle in different periods of history. He imagined it as a Virtual Reality game, and came up with some strategic gameplay ideas. He also came up with a cool sandbox mode too, which could be used to create your own battles, or perhaps serve as an educational tool for history lessons!
Charlie, aged 12, from Nantwich actually created his game in Scratch! This simple but addictive game involved dodging fruit. Ali and Kate commented that they love snack-based games – simple to grasp, challenging, and addictive – and were thrilled Charlie had created a prototype!
Jack from Woodbridge also got in touch to show us a game that he's been working on in Unity, which was impressive. Ali spent a little too much time before the Friday feedback session, getting stuck into Jack's creation.
The standard of work was so impressive, and we encouraged the students to enter the TeenTech Awards for 2021 and develop their ideas further. We had some lovely feedback from the students, their parents, and their teachers too.
TeenTech's next Innovation Day at Home is all about Space. You can learn more and register for the event at http://athome.teentech.com.