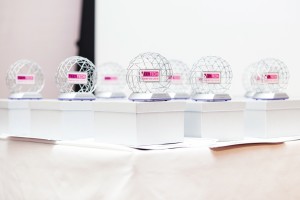 What a fantastic day!
A host of celebrities, journalists and eminent academics poured into the Royal Society to meet the talented young entrepreneurs and hear more about their cutting-edge insights into how to harness technology to make the world better. More than 120 teenagers were given the opportunity to get their ideas in front of the businesses and individuals who can help commercialise them and make them a reality.
Having seen off fierce competition from over 1400 contenders across the UK, the young innovators travelled to London to present their pioneering ideas to a team of judges made up of celebrity science presenters, journalists and eminent academics. Co-founder of TeenTech co-founder and former BBC Tomorrow's World presenter Maggie Philbin was joined by a host of familiar faces including Professor Brian Cox, theoretical physicist and broadcaster Professor Jim Al-Khalili, Gemma Morris from SKY, Fran Scott, CBBC Science Presenter, Channel 4's Dr Christian Jessen, BBC technology correspondent Rory Cellan-Jones, Tech reporter for BBC Click LJ Rich, Channel 4 News' Geoff White, science and tech reporter Dallas Campbell, and Jo Johnson MP.
Young people aged 11-18 were challenged to use technology to solve real-world problems by researching current markets and gleaning advice from industry experts. The students came up with scientific and technological solutions to real problems across a range of categories including energy, healthcare, education, entertainment, environment, transport, construction, and wearables.
Winning teams have been rewarded with special experiences with the sponsoring companies and an invitation from TeenTech Patron HRH Duke of York KG to a special reception at Buckingham Palace in the Autumn.
Harry Smith, 18 from Oakham School was named as winner of the Consumer Innovation award, sponsored by Maplin. His idea, 'Gust,' is an ergonomically redesigned hairdryer that is cordless and heats using semi-conductors to minimise damage to the hair. Maplin will be working with Harry over the next 12 months to see if his idea can be made, marketed, and sold in their stores – with all profits going back to Oakham School.
'Bras with Benefits' the winner of the Wearable Technology Category, sponsored by Maplin was created by Alexandria Hall, age 15 from Alton Convent School, BwB – Bras with Benefits is a cancer detecting bra, designed to identify early stage breast cancer before outward signs are visible. Alexandria said of her win today: "Everyone knows someone affected by cancer and what's more it's not just the person diagnosed who suffers – it's their friends, family, and loved ones too. So when we were asked to 'solve a problem' that seemed a good place to start."
TV's Professor Brian Cox, said: "I always look forward seeing what the students at TeenTech come up with and I'm never disappointed. We are seeing the next generation of scientists and engineers, and it fills me with optimism. TeenTech's great contribution is to re-enforce their enthusiasm and to provide them with both the inspiration and information they will need to build successful careers. Every finalist was a worthy finalist and as for the winners, I congratulate you. But the real prize is your future in science and engineering."
Iona and Alice from James Allen's Girls' School in London, winners of the 2015 Consumer Innovation Award, brought along their working prototype of their product 'Indicate'. Since winning in 2015 they have been working with Maplin making their designs and concept a reality, with the end goal is selling it at Maplin stores. 'Indicate' is a high visibility jacket that allows cyclists to indicate using LED lights worn on their back. Iona and Alice said: "For us TeenTech has been a really life changing experience that's helped us see the world in a different way. It's made us realise that if you have ideas you don't have to wait to be 18 or wait until you graduate from university to make something of them. You can start whenever you want – coming up with ideas and designing products that can actually make a difference and people want to use"
More pictures and videos coming soon but in the meantime, here are our deserving winners!
Healthcare Category
Loughborough Grammar School – David, Sankha and Hari for Medivest
A unique, advanced piece of wearable technology designed to combat the often crippling cases of severe epilepsy, allowing patients to monitor and send their vital signs to their doctors from the comfort of their homes in a safe, accurate and crucially non-invasive manner.
Energy Category sponsored by National Grid
Westcliffe High School for Boys – Adwaith for "The Palat Engine"
Concerned about effects exhaust gases from vehicles have on the health of the population, Adwaith set about investigating different forms of fuels and alternate engine configurations. The result is the Palat Engine, the emission from which is almost pure water.
Transport Category sponsored by Airbus
Caterham School – Casper, David and Oliver for "Sensosafe"
A versatile bike light that senses when a car is approaching and notifies the cyclist.
Education Category
Woldingham School – Milan, Imogen and Maria for "MyST App"
Booking a school trip for an average class of 20-34 students can be a hectic and stressful task for teachers. Our solution is the MyST app (My School Trip). This app is designed for teachers to use to find new and exciting school trips that they would like to take their class on. Trips can be arranged for all age groups/Key stages with over 20 subjects included and 100+ excursions to choose from.
Wearable Technology Category sponsored by Maplin
Alton Convent School – Alexandria for "Bras with Benefits"
BwB – Bras with Benefits is a cancer detecting bra, designed to identify early stage breast cancer before outward signs are visible.
Music, Media & Entertainment Category sponsored by JVCKenwood
Gillingham School – Thomas and Sol for "Sabretooth Music"
A unique audio system that enables multi-room speaker from any device and any digital music collection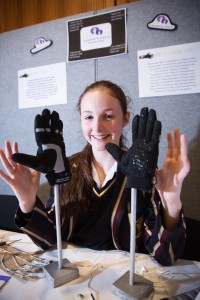 Environment Category
James Allen's Girls' School – Isabelle and Kyoka for "GreenNet"
A biodegradable fishing net that will break down in water after only 2 weeks. Current fishing nets are made of nylon which persist in the environment for up to 40 years, therefore with Greennet we could minimise the damage and destruction.
Safety & Security Category sponsored by Symantec
Welland Park Academy – Ted, James and Joshua for "Blue-Key"
A digital system devised to solve the problem of lost keys, safety and security. BLUE-KEY can be connected to a central hub using the app provided on your smart phone to open or close selected doors remotely, helping a wide range of people including the elderly, disabled, and emergency services
Retail & Finance Category
Notre Dame School – Eve, Zara, Tia and Niamh for 'Trolley Knowledge"
A built-in tablet for your shopping trolley which helps make your weekly shop a whole lot easier. Once you've created your shopping list and profile it navigates you through the store to help you find your products, to alert you of any allergies or dietary requirements and also keeps track of how much you spend.
Design & Construction category sponsored by ATKINS
Westminster Academy – Siana for "Emergency Necklace Bridge"
An emergency bridge that can be easily transported to and assembled at the site experiencing critical conditions such as damaged infrastructure.
Future of Food Category
Alton Convent School – Iona, Isabel and Lucy for "Natural Nutrients"
Driven by three concerns: the global levels of poverty and malnutrition, the loss of our rainforests and the need to empower local communities to support themselves. Natural Nutrients capitalises on the resources of a living rainforest, providing local people with the tools and skills to produce nutritious food supplements from edible bugs.
Digital Skills Category sponsored by DELL
The King Edward VI School – Alistair, William and Matthew for "NavBand"
Manufacturing Award sponsored by Cranfield University
Loughborough High School – Chloe, Lini and Ashley for "Steerclear"
Our idea is to adapt the modern steering wheel to make driving a more enjoyable experience whilst making it safer and more interesting to drive
Research and Literacy Award sponsored by CILIP Information Literacy Group
Oakham School – Matthew, Oliver and Archie for "K-Charge"
A shoe integrated with a battery, which charges the battery by converting the kinetic energy generated by walking into electrical energy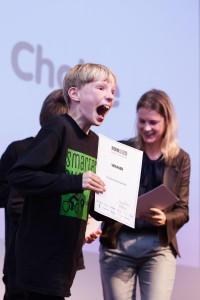 Teacher of the Year Category
Natalie Radmore: Passmores Academy
Best Innovation – Concept category
Sandbach High School & 6th Form College – Amy for "Bluetooth Speakers"
A bluetooth speaker that is made from obsolete books and vinyl records. By using books and records in this way addresses some of the biggest environmental issues facing modern society. The product has been designed in the 'modernist' style, so it is sustainable and stylish.
Best Innovation – Model, Prototype or Product category
Oakham School – Harry for "Gust"
An ergonomically redesigned hairdryer that is cordless, heats using semi-conductors to minimise damage to the hair and is modular
Best Research Project
Loughborough Grammar School – Sai for "Biosense"
Research into the detection of glucose in the urine of undiagnosed type 1 diabetes through a toilet block that causes a colour change in the toilet bowl signifying a positive result for a disease test
Consumer Innovation Award sponsored by Maplin
Oakham School – Harry for "Gust"
An ergonomically redesigned hairdryer that is cordless, heats using semi-conductors to minimise damage to the hair and is modular
People's Choice Award
Impington Village College – Peter, Jim and Eddie for "Let's Get Biking"
An app aimed at young children who like biking. It would have features that include parental control to monitor bike travel to allow parents to select safe routes and traffic information.