An e-water tap for Africa, a flat-pack disaster home, sunglasses to monitor epilepsy and a guitar with never-ending strings were just some of the winning innovations showcased by talented teenagers at the 2015 TeenTech Awards. . Every year the finalist projects get more and more impressive. Some teams built full working prototypes, others shared exciting new concepts and our industry judges were bowled over by the creativity and skills shown by young people across the UK.
Many thanks to our Award sponsors Airbus, Atkins, Cranfield University, CILIP, EDF Energy, Google, JVCKenwood, Maplin, National Grid, Network Rail and OCR for making all this possible.
One concept idea which has captured the imagination of the world's press is for a condom which changes colour if it comes into contact with a STI. The team of boys from Isaac Newton Academy in London, who were judged by Dr Christian Jessen in the  Future of Health category, have spent the day talking to people from across the world. They've now been approached by a condom manufacturer, impressed by their determination to tackle a sensitive issue.
Daanyaal Ali, 14, says of their idea: "We created the S.T.EYE as a new way for STI detection to help the future of the next generation. We wanted to make something that made detecting harmful STIs safer than ever before, so that people can take immediate action in the privacy of their own homes without the often-scary procedures at the doctors. We've made sure we're able to give peace of mind to users and let people act even more responsibly than ever before."
This idea was one of many seen by TeenTech patron HRH Duke of York KG who visited the Royal Society to meet the talented young entrepreneurs and hear more about their cutting-edge ideas into how to make the world better.
Over 100 young innovators travelled to London to present their pioneering ideas to teams of judges made up of industry experts, celebrity science presenters, journalists and eminent academics including Top Gear's James May, BBC Click's Kate Russell, BBC Bang Goes The Theory's Dallas Campbell, actress Katy Brand, comedian Jon Culshaw,TV's Dr Christian Jessen,  and TeenTech co-founder and BBC Tomorrow's World reporter Maggie Philbin.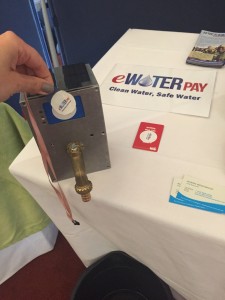 One powerful innovation was developed by three schoolchildren, Jack, Connor and Lawrence from Park House School in Newbury They clinched the crown in the Infrastructure category, sponsored by Network Rail, for their design of the E-Water Tap. Taken to full prototype stage, this is a new way to help improve water distribution in Africa. The team has a patent pending and has already secured £50,000 investment from leading charity Africa Water Enterprises, and will see 100 taps installed in a number of African villages by January 2016. The students stretched their programming skills to develop a way of monitoring water distribution to help improve the sustainability of water provision in rural Africa. Often water is collected by young children and they have incorporated imaginative learning opportunities into their system.
Speaking of the new venture, Alison Wedgwood, Chief Executive for Africa Water Enterprises, said: "AWE is completely overwhelmed by this idea. We think it could not only revolutionise rural water supplies in Africa, but drastically help what the Department for International Development is calling the 'hidden crisis'. While many charities install new taps, there is no way to currently monitor and fix the many broken ones – so this is a hugely ground-breaking way to make sure the taps stay usable and that a regular water supply is accessible by those who need it most."
Shortlisted ideas ranged from hair accessories that can match the colour of any garment you wear using Wi-Fi, a proposition to bring insects into Britain's food-chain, shoes designed to harness energy generated by walking to charge devices on-the-go, a 'floodless future' defence system for rail links, to an app that calculates the monetary value of household chores.
A brand-new award for 2015, the 'Consumer Innovation' category challenged participants to use tech to solve an everyday problem. Event sponsors, Maplin, will now work with winners from James Allen's Girls' School on their product Indicate, to see if the LED fluorescent jacket for cyclists can be made, marketed, and sold in their stores – with all profits going back to the winners.
Our full list of winners follows.
Retail and Finance Category
Notre Dame School, Greenock – Lucy, Lucy and Bethany for "Money Manager
International Collaboration
The King Edward VI School – Tom, Alistair and Jack for "Aidship"
Future of Food Category
Birkdale School – Lewis, William and Pablo for "Better Dinners"
Research and Literacy Award sponsored by CILIP
Birkdale School – Harvey, David and Will for "Psijure Wearable Technology
Healthcare Category
Isaac Newton Academy – Muaz, Daanyaal and Chirag for "S.T.EYE"
Safety & Security Category sponsored by Symantec
Sandbach High School – Rosie, Isabel and Ella for "Emergency Street Lighting"
Energy Category sponsored by National Grid
The Costello School – Raphael, Ashesh and James for "TE.E Energy"
Digital Skills Category
Loreto Grammar School – Lucy and Josie for "Elements"
Transport Category sponsored by Airbus
Ysgol Glan-y-Mor – Lewis, Charlie and Bradley for "SmartChair"
Manufacturing Award sponsored by Cranfield University
Tunbridge Wells Grammar School – Will, Sam and Alexander for "Guardian"
Environment Category sponsored by EDF
Tunbridge Wells Grammar School – Will, Sam and Alexander for "Guardian"
Design & Construction Category sponsored by Atkins
The Hayfield School – James, Siân and Luke for "Easehall"
Music, Media and Entertainment Category sponsored by JVC Kenwood
Okehampton College – Sam and Reece for "Reel Strings"
Infrastructure Category sponsored by Network Rail
Park House School – Jack, Connor and Laurence for "e-water dispenser"
Wearable Technology Category sponsored by Maplin
Loreto Grammar School – Emma for "Photoglas"
Consumer Innovation Award sponsored by Maplin
James Allen's Girls' School – Alice and Iona for "Indicate"
Education Category sponsored by Google
Birkdale School – Shahid, Alfie and Jacob for "Explain!"
Teacher of the Year Category sponsored by OCR
Daljit Kaur – Loughborough Grammar High School
People's Choice Award
Alton Convent School – Lauren, Lucy and Gabriella for "mShuttle"
The awards were set up to excite young people about the ever-expanding career possibilities available in the fields of science, engineering and technology, with TeenTech events taking place across the UK throughout the year – seeing hundreds of schools benefit from hands-on exhibits and challenges.
"Every year we are completely astounded by the quality of entries coming through the awards, and this year has not disappointed. The Awards are without fail the most special day in the TeenTech calendar, and an amazing opportunity for businesses, academics and celebrities to get a genuine insight into just what is going on in classrooms up and down the country.
"We know there's a huge amount of young talent all over the UK but teenagers are not always clear about the skills they need to succeed, and events like today's has proved that our exam system needs to embrace this creative talent and encourage even more life-changing inventions of tomorrow," says TeenTech's founder and CEO, Maggie Philbin.
"By taking their ideas out of the classroom and putting them face-to-face with industry professionals, we've been able to change the way young people think about these subjects and helps to open their eyes to the real potential of their ideas."
Dr Jane Secker, copyright and digital literacy advisor from CILIP said: "The CILIP Information Literacy Group are thrilled to be supporting TeenTech today. We got involved in the project because we are passionate about helping to develop young people's research skills to prepare them for their future careers and lives."