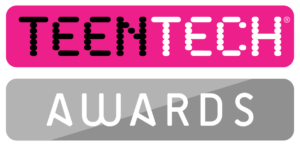 TeenTech Awards 2023 Finalists Resources
Congratulations on being a TeenTech Awards finalist! We've created some images and videos which you can use on social media to announce your achievement!
Please do tag us – @TeenTechEvent on Twitter – and use the hashtag #TeenTechAwards in your social media posts, so that we can see and share your achievement too!
Students
Download our images and videos which you can share on social media to let your friends and family know that you're a TeenTech Awards finalist!
Schools
Download our social media images and videos which you can share to celebrate the achievements of your students!
Top Tips for Finalist Videos
As part of the TeenTech Awards Final, we need each finalist team to submit a video summarising your idea. We'll be playing these videos during the TeenTech Awards ceremony.
Please refer to the 2023 TeenTech Awards Finalist Guidance document for more information on how to submit your videos.
In the meantime, we've put together some Top Tips on how you can create the perfect video to showcase your project!
Award Ceremony Parent/Carer Tickets
We are delighted, for the first time, to be able to offer a limited number of tickets to parents and carers of our TeenTech Awards 2023 finalists to come to the TeenTech Awards Final ceremony at the IET in London. Please note tickets are limited to one parent/carer per student.
Parents and carers can register here.