The TeenTech West Festival launched today with 22 schools from across Bristol showcasing their innovative skills alongside experts from industry. From drones delivering crucial medical supplies, to cybersecurity challenges to robotics – the day helped young people across the region understand the jobs of tomorrow.
Thanks to funding from the Department for Digital, Culture, Media and Sport (DCMS), Rolls-Royce and Kinneir-Dufort, students will now develop their own ideas with ongoing industry support.
Companies running activities included: Airbus, Atkins Global, Cygenta, HPE, University of Bristol, BBC Bristol, Costain, Highways England, Hitachi Rail, JVCKenwood, Kinneir-Dufort, Lloyds Banking Group, NHS England, NHS Digital, Renishaw, Rolls-Royce and The South West Regional Crime Unit.
It was great to be emailed immediately by a teacher who says..
I just wanted to say a massive thank you for today. The children loved every minute. One said that it was the 'best trip he'd ever been on'. I felt this was a huge compliment. Our pupils get a fair few opportunities thrown their way! This is the first time we have done something like this though.
All of the instructors, activity leaders and ambassadors were tirelessly energetic with infectious enthusiasm. They used language to explain concepts to the Year 8 pupils in an accessible way. Not all of mine are regular users of technical vocabulary but I felt that they understood all that they needed to and learnt loads! They have come away inspired and really excited about entering the TeenTech Awards. I also had a lovely day!
Thank you from us all!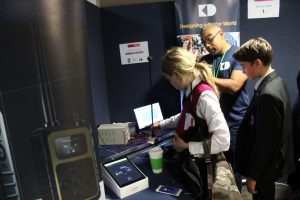 TeenTech Bristol sponsor, Kinneir Dufort says:
"We're very proud to be a sponsor of TeenTech, working closely with the charity to put on their Bristol event and inspire students of the Southwest. As well as entertaining and engaging the next generation of innovators and creators, the structure of TeenTech's festival days provides students with real insight into their future opportunities in modern industry, which can be invaluable for a young person."
Gareth Hetheridge, Head of IT, Defence at  Rolls-Royce, TeenTech sponsor says:
"Rolls-Royce is committed to ensuring every child has the opportunity to be engaged in the wonderful world of STEM.  This is why we have recently extended our ambition to inspire 25 million of tomorrow's pioneers by 2030.
"As part of our ongoing commitment to STEM we are delighted to be sponsoring the TeenTech Regional Festival in Bristol. Bristol is an area that has played a big part of our heritage and one that has a big role to play in helping Rolls-Royce continue to deliver pioneering and cutting-edge technologies that deliver clean, safe and competitive solutions to meet our planet's vital power needs."
TeenTech Bristol steering group member, University of Bristol says: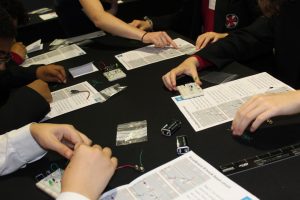 "The TeenTech team are highly skilled at curating inspiring events that are fun, informative and engaging, aimed at  young people in years 8/9 from across the region
Bristol is the UK's leading smart city, overtaking London in a recent report commissioned by Huawei UK. Outside of London, Bristol has one of the fastest-growing clusters of digital industry. As a city, we need to work together to ensure that young people from a diverse range of backgrounds will be equipped to pursue the excellent opportunities the tech industry offers.
TeenTech provides a platform for industry and universities to demonstrate the tangible applications of technology and how they positively impact humanity.  The dynamic, informal nature of the event inspires curiosity. Inviting young people to make a link between the fundamentals that are taught in the curriculum, to where studying those subjects might lead them in the future. Something that is hard for schools to achieve without support from industry experts."
TeenTech CEO Maggie Philbin says:
"It was a brilliant day and so gratifying to hear teachers describing it as an exceptional experience for both their students and themselves. We want young people to really understand they can become the innovators of tomorrow. Making sure young people in Bristol have exposure to the fast-changing world of work is very important to me.
The response from local organisations has been remarkable, we've all worked together to create an amazing experience for young people – and today is only the beginning."
We're now planning the programme for 2020 and would love to hear from companies in the region who would like to be part of it!