Cymru
Rhaglen gyffrous o sesiynau Arloesi a digwyddiadau TeenTech City Yfory ar gyfer plant 8–19 oed
Cofrestrwch nawr – Ymunwch â'n briff i athrawon a'n sesiwn holi ac ateb ddydd Mawrth 11 mis Ionawr am 4:00pm
Teacher Briefing
Mae'r sesiynau'n dechrau ym mis Mawrth 2022. Ymunwch â'n briff i athrawon a'n sesiwn holi ac ateb ddydd Mawrth 11 mis Ionawr am 4:00pm i ddysgu am raglen TeenTech Live a sut i wneud y gorau o'r digwyddiadau ac adnoddau, ac i ofyn unrhyw gwestiynau.
Gyda chefnogaeth yng Nghymru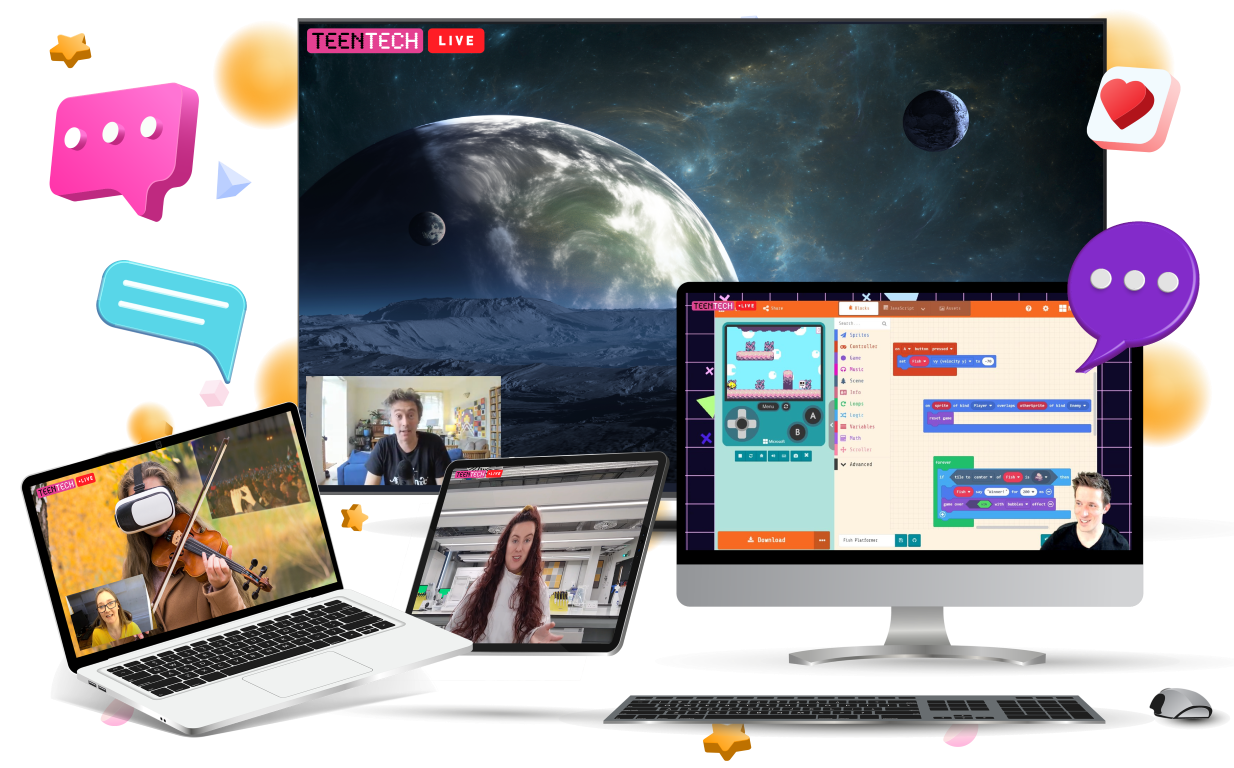 Mae TeenTech Live yn dod â'r byd cyffrous gwyddoniaeth a thechnoleg i'ch ysgol neu cartref.
Roedd rhaglen TeenTech Live Caerdydd y llynedd yn llwyddiant ysgubol, ac rydym yn falch iawn o ehangu ein cynnig i Gymru gyfan ym mis Mawrth 2022 drwy gynnal sesiynau cyffrous o'r enw TeenTech Innovation Live, sesiynau TeenTech City of Tomorrow Live Build Day a'n sesiynau newydd sbon, TeenTech City of Tomorrow Smart Skills!
Mae ein sesiynau rhyngweithiol yn cael eu cynnal gan ohebwyr gwyddoniaeth a thechnoleg enwog, ac maent yn ddifyr, yn ysgogol ac yn rhoi cyd-destun go iawn i ddysgu, gan helpu pobl ifanc i ddeall mwy am yrfaoedd a'r ffordd y mae technoleg gyffrous newydd yn llywio pob agwedd ar ein bywydau.
Mae TeenTech Live yn cyflawni meincnodau Gatsby ac wedi'i ganmol yn fawr gan athrawon, rhieni a disgyblion.
Mae ein sesiynau rhithwir yn parhau am awr ac yna mae gan ddisgyblion yr opsiwn i weithio ar heriau byr neu brosiectau a chymryd rhan mewn sesiwn adborth ddilynol gydag arbenigwyr diwydiannol. Mae gennym sesiynau sy'n addas i bob oedran, diddordeb a gallu.

TeenTech Innovation Live
I ddisgyblion rhwng 11-19 oed
Mae sesiynau Arloesedd TeenTech yn rhoi bod i'r byd gwyddonol a pheirianneg i ddisgyblion rhwng 11-19 oed.
Maent yn canolbwyntio ar gyfleoedd o fewn sector penodol gyda mewnbwn gan gyflogwyr lleol a chenedlaethol. Disgyblion sydd wedi awgrymu'r pynciau, ac rydym wedi cynllunio sesiynau ar gyfer Caerdydd, gan gynnwys Dylunio Gemau, Technoleg Iechyd, Dyfodol y Cyfryngau ac Adloniant, Technoleg Ddatblygol, Seiberddiogelwch a'r Gofod!
Dilynir pob sesiwn Arloesi gydag adborth byw ar brosiectau'r disgyblion gan arbenigwyr yn y diwydiant.
Wedi'i arwain gan ohebwyr technoleg profiadol, mae disgyblion yn deall mwy am gyfleoedd sy'n codi, gwahanol bwyntiau mynediad, y sgiliau technegol a phersonol fydd yn mynd â nhw ymhellach.

TeenTech City of Tomorrow Live
I ddisgyblion rhwng 8-13 oed
Mae TeenTech City of Tomorrow yn gwahodd pobl ifanc rhwng 8-13 i ddylunio syniadau ar gyfer Dinas Yfory fwy diogel, clyfar a charedig, gan amlygu gyrfaoedd yn y ddinas gysylltiedig a chodi ymwybyddiaeth o nodau cynaliadwyedd a dinasyddiaeth byd-eang.
Yn ystod ein sesiynau TeenTech City of Tomorrow Diwrnod Adeiladu, mae disgyblion yn ystyried sut mae meysydd ffisegol (cartref, iechyd, addysg, chwaraeon, adloniant, masnach) yn gallu cynnig profiad gwell i bawb a sut gallen nhw chwarae rhan yn ninasoedd cynhwysol sy'n gydgysylltiedig yn ddigidol yn y dyfodol.
Bydd ein sesiynau newydd sbon, TeenTech City of Tomorrow Smart Skills, yn datblygu sgiliau digidol, sgiliau cyfryngau a sgiliau llythrennedd data eich disgyblion.
Mae'r pwyslais ar feddwl creadigol beiddgar gydag adborth byw gan gyflogwyr lleol a chenedlaethol.
Views Navigation
Event Views Navigation
TeenTech Live offers:
An exciting range of sessions which resonate with young people from animation to the future of music, space exploration to the future of transport, food sustainability to ethical fashion, smart homes to smart cities.
Opportunities to connect with people working at all levels of engineering and technology.
Opportunities to develop skills which students, as well as industry, recognize as key to their future.
Ways to enrich lessons in science, computing, maths, animation, web design, design and technology.
A safe, interactive platform.
Cross-curricular learning.
Flexibility – sessions work well whether students are in school or working from home.
A valuable network of industry contacts.
Impact:
Very or somewhat interested in a career in Design, Technology and Engineering grew from 55% to 86%.

Feeling capable of having a career in those areas grew from 61% to 80%.

Our impact is long-lasting, schools working with TeenTech report more students choosing STEM subjects,(one reported a 300% increase over 5 years, another in Physics from 43% to 87.5%) and the teachers said they felt better placed to provide context for learning after running our project.
What Our Parents and Teachers Say…
This virtual offer is amazing, so well thought out and is executed seamlessly. Such a great idea, I will be sharing on Facebook and to all my friends for their children to get involved over the coming weeks. The last few weeks have been challenging with trying to work and homeschooling, and this project actually bought my own children closer.
Just wanted to say that, as a parent watching all of these sessions, you should all be very proud of yourselves! They are creative, thoughtful, funny, entertaining and show a lot of skill. Well done all and thanks to TeenTech for another amazing week.
I have enjoyed this week so much! It has been exciting and I adored it! I learnt so much about sound and it was an incredible opportunity.
They have been an amazing experience and I have definitely had a deeper dive into the world of tech. I have understood that it's not all about code, there's so much more to it.
At the start of the week, I had a passion to be a game designer but I didn't think I could do it. TeenTech has helped me develop my skills and helped me create a game that I enjoy. Thank You.
I have enjoyed the sense and the atmosphere of collaboration between industry experts, TeenTech's presenter, Ali Maggs and the bright ideas shared to everyone by the teens. These lessons have been very informative and have made me think outside the box for new innovations and ideas.
Alton School
Channing School
Stephen Perse Foundation
…for generously donating their TeenTech Awards prize money to help fund these sessions!