Our TeenTech Create Your Future Live programme helps students aged 11-19 understand exciting career opportunities in the connected cities of the future!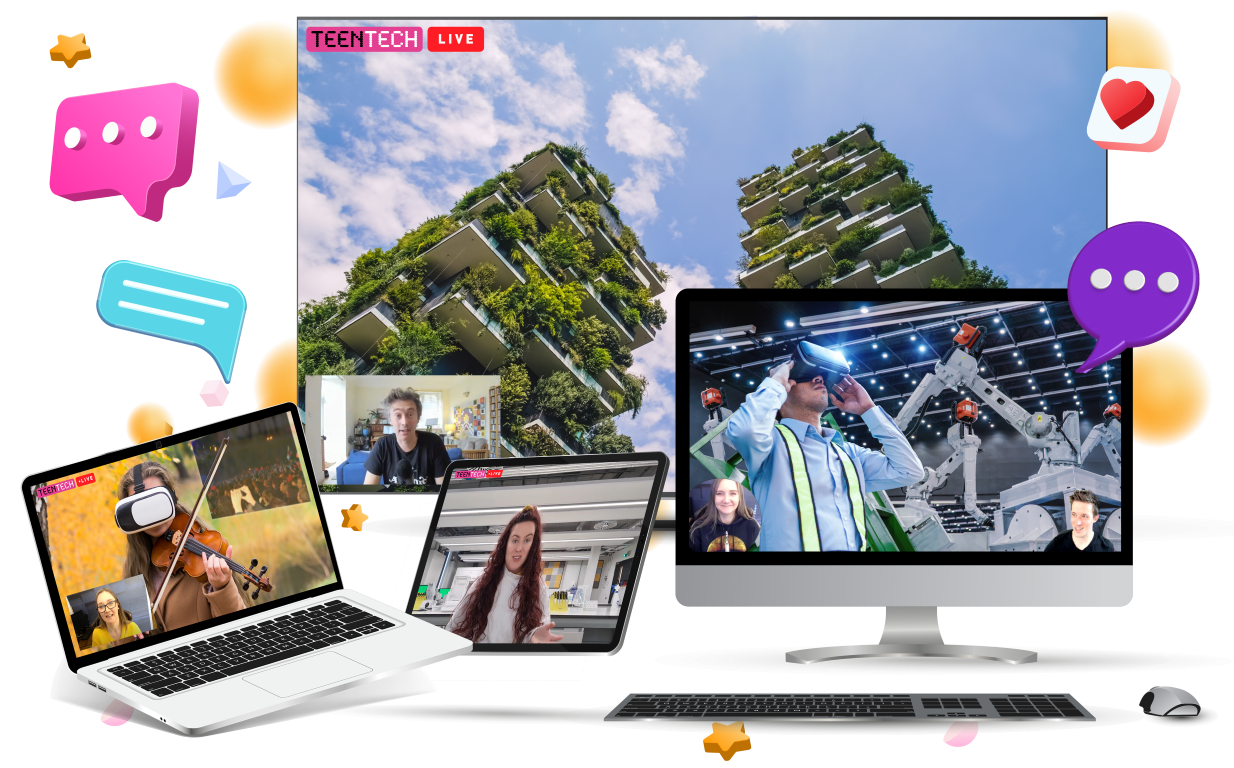 Our exciting TeenTech Create Your Future Live programme helps students aged 11-19 understand exciting career opportunities in the connected cities of the future through fun, interactive and engaging live sessions, and challenges set by industry experts to develop your students' skills.
This is generously funded by the Ove Arup Foundation. 
The programme provides your students with access to industry experts from Arup and other local and global organisations.  
The TeenTech Create Your Future programme aims to:
Showcase the importance of digital, scientific, and engineering skills

 

Engage and inspire the next generation in the growing opportunities in sustainable design, connected cities, transport, health, energy supply

Raise students' aspirations and the profile of career opportunities

Provide students with opportunities to develop and evidence their technical and personal skills

Connect industry and education to support our leaders of tomorrow as they become responsible global citizens of today
You can register below for our upcoming live virtual events.
Interactive Sessions
TeenTech presenters will interview topic experts who will talk about their company, role, projects, and answer questions from your students.
Challenge
Students spend classroom time working on a specified innovation challenge with a structure and resources provided by TeenTech, supported by industry volunteers.
Showcase Event
A termly online celebration of student projects.
Views Navigation
Event Views Navigation
TeenTech Live offers:
TeenTech Live meets Gatsby benchmarks and has been highly praised by teachers, parents and students.
Opportunities to connect with people working at all levels of engineering and technology.
Opportunities to develop skills which students, as well as industry, recognize as key to their future.
Ways to enrich lessons in science, computing, maths, animation, web design, design and technology.
A safe, interactive platform.
Cross-curricular learning.
Flexibility – sessions work well whether students are in school or working from home.
A valuable network of industry contacts.
Impact:
Very or somewhat interested in a career in Design, Technology and Engineering grew from 55% to 86%.

Feeling capable of having a career in those areas grew from 61% to 80%.

Our impact is long-lasting, schools working with TeenTech report more students choosing STEM subjects,(one reported a 300% increase over 5 years, another in Physics from 43% to 87.5%) and the teachers said they felt better placed to provide context for learning after running our project.
What Our Parents and Teachers Say…
This virtual offer is amazing, so well thought out and is executed seamlessly. Such a great idea, I will be sharing on Facebook and to all my friends for their children to get involved over the coming weeks. The last few weeks have been challenging with trying to work and homeschooling, and this project actually bought my own children closer.
Just wanted to say that, as a parent watching all of these sessions, you should all be very proud of yourselves! They are creative, thoughtful, funny, entertaining and show a lot of skill. Well done all and thanks to TeenTech for another amazing week.
I have enjoyed this week so much! It has been exciting and I adored it! I learnt so much about sound and it was an incredible opportunity.
They have been an amazing experience and I have definitely had a deeper dive into the world of tech. I have understood that it's not all about code, there's so much more to it.
At the start of the week, I had a passion to be a game designer but I didn't think I could do it. TeenTech has helped me develop my skills and helped me create a game that I enjoy. Thank You.
I have enjoyed the sense and the atmosphere of collaboration between industry experts, TeenTech's presenter, Ali Maggs and the bright ideas shared to everyone by the teens. These lessons have been very informative and have made me think outside the box for new innovations and ideas