The Humber Education Business Partnership once again joined forces with Maggie Philbin to bring to the Humber Sub Region "The TechTech experience". This exciting event was held at the KC Stadium on 10th July following the success of the previous events. Trish Colley of Beverley High School said "it's the best TeenTech yet".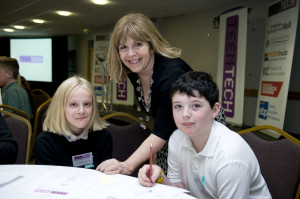 "It's great to see such an event take place in the Humber Sub Region giving so many of our young people such an inspirational hands on experience" said Sandra Cooper of the Humber EBP.   Teenagers dream about owning the latest gadgets but few consider they could be shaping the future themselves. There's a real need to make them aware of the rich opportunities that exist in these areas. But it's also a big opportunity for businesses in those sectors to influence young people and help develop the workforce of tomorrow.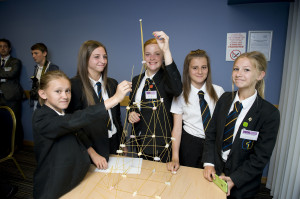 Employers from a range of science, engineering and technology companies are investing in the future of their industries by supporting this event on the lookout for emerging talent. The TeenTech event gave 230 school students from the Humber region a chance to work alongside some of the people behind the gadgets that drive their 21st century lives.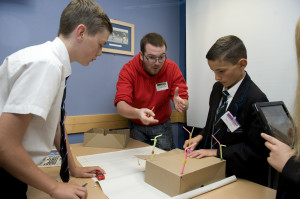 Students aged 12-13 from across the Humber area conducted experiments, handled leading-edge technology and met the engineers, technicians and scientists from the world of big business. The aim was to tap into their fascination with modern gadgets and encourage them to explore the key subjects at school that can lead to high-tech careers.
The JVC, KC , Novartis, YORhub, Jackson Civils, William Jacksons Food Group, Croda and elsium were among the major brands that attended the event. Jed Turner, YORhub Head of Operations for the South Region and Senior Construction Category Manager at Sheffield City Council, commented: "It was great to see first-hand the students so engaged in such a variety of tasks and activities to connect them to the career options available in STEM.  It was also good to witness how the event challenged students' perceptions that STEM careers are just for men, and revealed a world of exciting career opportunities for the girls." The event aims to ensure that our young people leave education equipped with the skills that local employers need, and that they develop the aspirations to be successful in their working lives. TeenTech provides a great opportunity for students to find out first-hand about careers in engineering, technology and science and to show people in those industries what they can do. The last word goes to Jack Coulman a student from Archbishop Sentamu Academy in Hull who attended the event whilst on work experience with Esteem. Jack said of the event "It has been a big inspiration and possibly changed my mind for a future job I would like to do"
You can view all of the photos from the event on this web site here and on the TeenTech Flickr pages here.
Winners
Ideas Wall – winner from Longcroft School – Ryan 
The winning idea was for an implant to be placed in your brain which meant that if you thought of a song it would play and if you thought of a person you could talk to them. 

JVC – Winning a Boombox – Holly – Goole High School 

Maplin Electronics – Raspberry pi and Maplin vouchers – winners were from Goole High School 

KC – Amazon vouchers – Ben – Kelvin Hall School – Benjamin – Kelvin Hall School – Talisha – Winifred Holtby School 


Apps Challenge winners 

Overall 
Oasis Academy Immingham – Safe Drive 

Best Pitch 
Malet Lambert School Group 2 – No Excuse 
The Axholme Academy – Planet Fire (Clearly got across a game idea) 
Goole High School Group 3 – World War 7 (Had a narrative) 
St Mary's College – The Help Button (Interview style pitch) 
  
Marketable 
South Axholme Academy Group 2 – Dodging Suarez 
South Axholme Academy Group 1 – Pocket Shopper 
  
Innovative 
Beverley High School – Merging Music 
Oasis Academy Immingham – Safe Drive 
  
Icon 
The Axholme Academy – Planet Fire 
Goole High School Group 4 – A Helping Hand 
South Axholme Academy Group 2 – Dodging Suarez 
  
Teamwork 
Goole High School Group 2 – Meal Maker
A big Thank You must go to our Sponsors, without whom this event would not have been possible: