TeenTech has been working with young people for over ten years and we are really proud of our alumnae. We have asked some of our students to write their experience.
I'm Harry, originally from Oakham but now living in Birmingham while running my company, HausBots. I'm the Engineering Director, which means I make sure the right things get designed and made when they are meant to. When I'm not in the office I enjoy boating and tinkering with classic cars.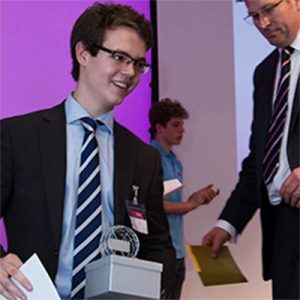 The year I entered TeenTech (2016) was the first year my school had entered so it, so we weren't totally sure how the process worked. At the time I was working on my A-Level Design and Technology  project which was a cordless hair dryer, so we chose to enter this. Writing the report for the TeenTech submission proved to be really useful as it made me think in different ways about certain elements of the product which I was able to include into my A Level submission.
The process of the final turned out to be totally painless, despite me having an A Level Physics exam on the same day! Having to prepare a short pitch presentation and having to "sell" the product to the judges was really useful, I've had to do it countless times since so it was a really key skill to learn. TeenTech is also quite different to other competitions in that it is a lot more open – there are far fewer constraints with what you can enter and how you enter it which was great for me, but the process of planning a submission and trying to structure it all in a coherent way was a really good thing to learn as unlike school competitions, there's no template to follow for most of life! I can't thank my TeenTech supervisor enough, Mr Toerien, for guiding me through this process and putting up with my mad (and usually bad) ideas.
After leaving school I went to study Design Engineering at Loughborough University. It was around this time that I started working more concertedly on a Wall Painting Robot project in my spare time. I had been asked by my parents to paint the living room and found it incredibly boring, so thought there must be a better way!
Around a year later a school friend approached me after having seen the progress on the robot to say that it was a waste for me to keep it as a spare-time project, and that together we could make a decent business out of it. I took him up on the offer, and that's how HausBots was formally created.
We've now built our first versions of wall painting robots that are ready for use on building sites across the country. They can paint faster than a human decorator, are bristling with sensors to make sure they do a good job but most importantly can reach a height of 10M, which means that the cost of access is saved (scaffolding or a mobile platform) which saves a lot of money, but also saves lives.
For anyone doing TeenTech at the moment and thinking they might want to run their own company in the future then I'd totally encourage it! You'll find the planning, decision making and teamwork skills that you're working on at the moment really useful, as well as the biggest one which is actually being bothered to do something, when 99% of people are happy to sit back and do nothing. Now get back to building all of us a better future!