46 of the UK's best teenage technologists and scientists have been crowned winners at the 2017 TeenTech Awards. 20 incredible ideas including a hand-held cancer detector, dissolvable chewing gum and floating cities were selected for their innovative concepts, incredible prototypes, and thorough research.
TeenTech runs the year-round initiative with leading industry partners to challenge young people aged 11-18 to develop solutions to key societal, health and environmental issues using the power of science, technology and engineering.
For the second year running, girls lead the charge, with females making up over 60% of the winners. That's despite research by the WISE campaign revealing four in five (79%) of science, engineering, technology and maths (STEM) jobs in the UK continue to be held by men. Figures from the Women's Engineering Society, also show the UK has the lowest percentage of female engineering professionals in Europe.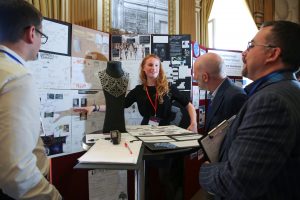 The winning projects were chosen by a panel of judges made up of celebrities, journalists and eminent academics, including BBC technology correspondent Rory Cellan-Jones, BBC Click reporter Kate Russell and Scientist and TV Presenter Fran Scott. Dragon's Den host Evan Davis, Channel 4's Dr Christian Jessen, Sky presenter Gemma Morris, and celebrity physicist Brian Cox, also met students on the day. Champions will be invited to a reception with His Royal Highness the Duke of York KG at Buckingham Palace in the autumn term.
Sponsors include Airbus, Atkins, Cranfield University, CILIP, AQA, FDM Group, JVCKenwood, Marks and Spencer, Symantec and London Livery company, 'The Fuellers" with over 300 companies and 45 Universities providing feedback and support to students.
Schools from London, South Yorkshire, Leicestershire, Suffolk, Cheshire, Carmarthenshire and Inverclyde were named amongst the finalists. Leicestershire and London were the top regions with each area winning five categories a piece. For the first time, UK students taking part were also joined this year by teams from Spain, Finland and Hungary. Hungary won the international category with Elte Trefort Ágoston High School's idea for an app based remote control for the smart home.
The Light Ray team from Alton Convent School were voted The TeenTech People's Choice by attending finalists for their wearable that detects UV rays. Karen Kelly of Notre Dame School in Inverclyde, Scotland was named Teacher of the Year after two of her school's projects won categories at the awards.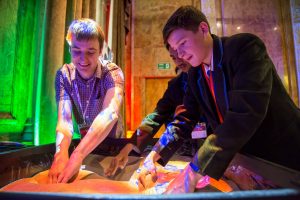 Last year's TeenTech finalists Emma and Harry who hosted the ceremony, have gone on to work directly with industry leaders on their ideas. Harry who won two categories last year with his reimagining of the humble hairdryer is now in talks with a major manufacturer to bring his idea to life. Emma, who went on to win The Big Bang, has been offered a grant from Aveva to work further on her idea for a motion sensing glove that translated sign language into speech.
Previous finalists in the TeenTech Awards include Lauren and Lucy from Alton who, in October, were officially crowned 2016's 'Teen Heroes of the year' by BBC Radio 1 in front of a 10,000-strong crowd at Wembley. The two girls came up with an idea for an intelligent medical shuttle and now act as TeenTech Young Ambassadors to other schools. At just 17 years old Lauren has been named in the Top 50 Engineers Under 35 by The Women's Engineering Society (WES) and The Telegraph. Other award participants have gone on to win Arkwright and Bloomberg scholarships, while TeenTech projects have also won 'Young Engineer of the Year' for the last two years in a row.
TeenTech co-founder and Tomorrow's World presenter Maggie Philbin OBE says: "This is the fifth annual TeenTech Awards and we're constantly blown away by the standard of entries. 2017 has been no exception and we're seeing again how with the right support and encouragement, young people are more than capable of shaping their own future. The Awards are without doubt the highlight of the TeenTech calendar and really sum up what we're about: embracing creative talent; putting youngsters face-to-face with industry professionals; and inspiring them to see the power and potential of their ideas. It's also exciting to see the girls continuing to buck STEM traditions by leading the way."
Among the most important aspects of the TeenTech Awards are the resources and year-round support offered to every student and school taking part. This includes a team of expert mentors providing feedback and advice, and a series of live innovation events and workshops with more than 200 scientists, engineers and technology pioneers from companies such as Atkins, Airbus, Marks and Spencer, Symantec, FDM Group, London Zoo and TFL.
Below is an overview of this year's winning projects:
BEST INNOVATION – CONCEPT (Joint Winners)
MILL HILL SCHOOL for HANDICUTTER – Easy to use cutters for sufferers of multiple sclerosis and other illnesses which affect hand strength and limit precise movement.
SANDBACH HIGH SCHOOL for Re:Calibrate – Rehab tool for child stroke sufferers.
BEST INNOVATION – MODEL, PROTOTYPE OR PRODUCT
ALTRINCHAM GRAMMAR SCHOOL FOR BOYS for MY GLOVE – A 'Total Recall' inspired hand control for a smartphone.
BEST RESEARCH PROJECT
SHEFFIELD HIGH SCHOOL for Digestible Energy in Horse Feed – Research into horse nutrition and diet.
DESIGN & CONSTRUCTION
SHEFFIELD HIGH SCHOOL for CITIES AT SEA – A floating city designed to cope with the ecological and humanitarian crisis of rising sea levels.
DIGITAL SKILLS
LOUGHBOROUGH HIGH SCHOOL for SAFE CASE – A phone case that helps protect against attacks on young women – pepper spray, alarm, recording the attack.
EDUCATION
NOTRE DAME SCHOOL for NOTELEARNER – The experience of a personal music tutor, in an app.
ENERGY
THURSTON COMMUNITY COLLEGE for E-Den – Affordable, ecological and mobile micro-homes to tackle the world's housing crisis.
ENVIRONMENT
GREEN SPRING ACADEMY for SENSORSHIP – A chip to prevent illegal fishing and overfishing all over the worlds seas.
FASHION & RETAIL
YSGOL GLAN Y MOR for S.A.S.S. – A grocery shop-scanner for a better diet and cheaper shop.
FUTURE OF FOOD (Joint Winners)
GREEN SPRING ACADEMY for SNOWDROP CHEWING GUM – A wonka-esque dissolvable & digestible chewing gum.
WELLAND PARK ACADEMY for HYDROHOME – Turning everyday furniture into a home allotment with hydroponics.
HEALTH
OAKHAM SCHOOL for TeraDetect & Encrypt – Hand held medical device for sniffing out cancerous tissues.
INTERNATIONAL AWARD
ELTE TREFORT ÁGOSTON HIGH SCHOOL – Hungary for SMART HOME – An app-based remote control for the smart home.
MANUFACTURING
NOTRE DAME SCHOOL for EASY SPREAD – An end to hard butter tearing your bread…
MUSIC, MEDIA & ENTERTAINMENT
HORIZON COMMUNITY COLLEGE for The Storage Phone Case – A phone case with built in storage and multiple ports.
RESEARCH & INFORMATION LITERACY
OAKHAM SCHOOL for BRAINWAVE – A VR system that responds to the biological feedback of the wearer.
SAFETY & SECURITY
ALEXANDRA PARK SCHOOL for BEBL – A biometric bike lock that lets riders 'stick' their bike to any metal surface using electromagnets.
TRANSPORT
MILL HILL SCHOOL for PUSH – A device to harness energy from electric or manual wheelchairs.
WEARABLE TECHNOLOGY
LOUGHBOROUGH HIGH SCHOOL for CONDUCTOVEST – A wearable that replaces all of the heavy, old technology carted around by conductors, police officers and first responders with a lightweight connected jacket and app.
About the TeenTech Awards
The TeenTech Awards are an annual initiative run by TeenTech that challenges young people aged 11-18 to tackle key societal and environmental issues using the power of science, technology and engineering. Each year, finalists present their ideas live to a panel of judges made up of celebrities, journalists and eminent academics. The overall winners will then be invited to present their idea to HRH Duke of York. For the first time in 2017, UK teams are joined in the competition by participants from Spain, Finland and Hungary. Award sponsors include Airbus, Atkins, Cranfield University, CILIP, AQA, FDM Group, JVCKenwood, Marks and Spencer, Symantec and London Livery company, 'The Fuellers". In addition, more than 35 Universities and 70 companies mentor students for the TeenTech Awards.
About TeenTech
TeenTech is an award winning, industry-led initiative, co-founded by Maggie Philbin OBE (BBC Tomorrow's World) and Chris Dodson, OBE. The first TeenTech event ran in the Thames Valley in November 2008. Thanks to the support of a prestigious list of partners and corporate sponsors, TeenTech now run initiatives across the UK for young people aged 8-18, introducing thousands of UK teenagers to opportunities in further education and employment. It also offers a programme for younger students called 'TeenTech City of Tomorrow". For more information about TeenTech, visit http://www.teentechevent.com
About TeenTech in Education
Research shows the TeenTech programmes helps teenagers refocus their thinking about school subject choices and consider career paths they never knew existed. Girls in particular are enthused to reconsider – at one London event only 22% were fairly or very interested in a career in engineering but by the end of the day 78% felt that way. TeenTech has also benefitted entire schools, giving teachers confidence in both their own and their students potential.
Media Contacts
Terrie Barron, Edelman, [email protected]
Twitter: @teentechevent / #teentechawards