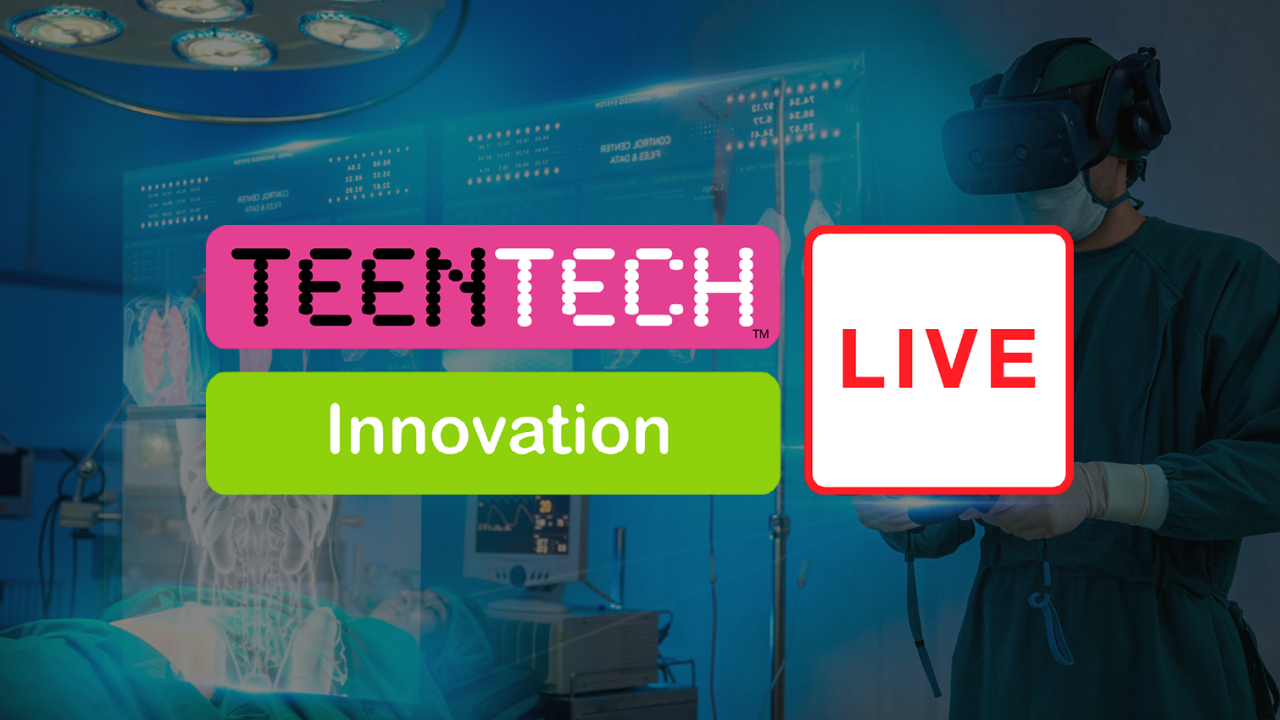 We will be talking to leading voices in the healthcare sector looking at how technology is being used to improve, digitise and deliver healthcare practices. We will also learn more about the vast range of career opportunities within the healthcare industry.
How is Virtual and Augmented Reality helping improve healthcare for patients and practitioners?
How do exoskeleton suits work in tandem with the user?
How is 3D printing used in healthcare and what are the benefits?
If the timings don't work for your school, or if you can't join the sessions live, don't worry! All sessions will be available for playback during the programme and you can even send us questions beforehand for our experts to answer.
What is TeenTech Innovation Live?
TeenTech Innovation Live sessions bring the digital, scientific and engineering world to life for students aged 11-19. They focus on opportunities within a specific sector with input from local and national employers, with opportunities for students to work on real-world projects. We deliver these with volunteers from apprentice to CTO to answer questions from students. Led by our experienced tech reporters, students understand more about the emerging opportunities, different entry points, the technical and personal skills needed. Students are then stepped through an innovation challenge, where they build their own solutions to address real-world problems connected to the topic and value their own personal qualities. They will be given time to complete their projects and share them with us and then re-join our presenter and mentors to receive live feedback on their work.
How do TeenTech Innovation Live sessions work and how do we take part?
The sessions focus on opportunities within a specific sector with input from local and national employers and universities. All our sessions are led by science and technology broadcasters who will introduce your students to some of the most exciting people working in the industry – both locally, nationally and internationally The initial "kick-off" Innovation sessions will be broadcast live, usually on Wednesday mornings at 10:00am each week (lasting one hour). If you can't join us live, that's okay! You can still register and submit questions for our experts ahead of time. During the kick-off, students are set an optional topic-related challenge and the opportunity to submit further questions. The sessions will be available online for 7 days following their broadcast. Feedback sessions will be held each term where students will receive project feedback and have the opportunity to ask industry experts further questions.
What are the benefits of taking part?
The sessions are structured to offer the following opportunities for students and their teachers:
Connect with people working at all levels of engineering and technology
Find out more about the sector
Develop the skills which students, as well as industry, recognise as key to their future
Ways to enrich lessons in science, computing, maths, animation, web design, design and technology
A safe, interactive platform
Cross-curricular learning
Receive meaningful feedback on challenges undertaken
Watch our TeenTech Innovation Live Trailer