Virtual Event
TeenTech City of Tomorrow Smart Skills: Media Literacy Through Filmmaking Week 1 / Sgiliau Blaengar Diwrnod Adeiladu Dinas Yfory TeenTech Llythrennedd yn y Cyfryngau Drwy Wneud Ffilmiau Wythnos 1
22nd March 2022 @ 10:00 am

-

11:00 am

GMT

Virtual Event

Free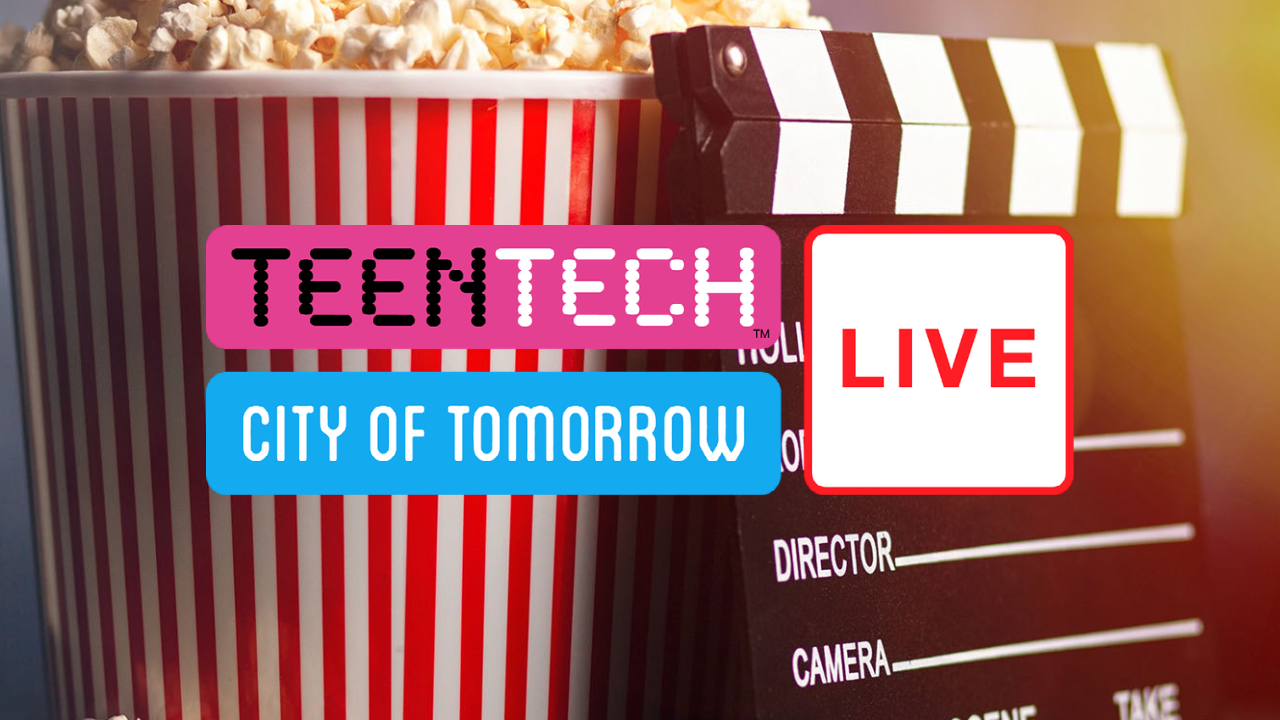 Visual storytelling is an important skill. Being able to communicate an idea, using digital tools, is an important role that is used by innovators and content creators. During this TeenTech City of Tomorrow Smart Skills session, we'll take your pupils through creating their own short film – from coming up with a story/idea and pre-production, through production and post-production. This is the first of a two-part programme, and we'd highly recommend you join us for both if you can, as the second session builds on the skills developed in the first session. You can register for the second session here.
If the timings don't work for your school, or if you can't join the sessions live, don't worry! All sessions will be available for playback during the programme and you can even send us questions beforehand for our experts to answer.
What is a TeenTech City of Tomorrow Smart Skills Session?
Our TeenTech City of Tomorrow Smart Skills sessions help students develop their abilities in coding (through making games), animation and digital literacy.
The emphasis is on bold creative thinking with live feedback from local and national employers.
You can learn more about TeenTech City of Tomorrow Smart Skills here.
Mae adrodd straeon gweledol yn sgìl pwysig. Mae gallu cyfleu syniad, gan ddefnyddio offer digidol, yn rôl bwysig sy'n cael ei defnyddio gan arloeswyr a chrewyr cynnwys. Yn ystod y sesiwn Sgiliau Blaengar Dinas Yfory TeenTech, byddwn yn tywys eich disgyblion drwy greu eu ffilm fer eu hunain – o lunio stori/syniad a chyn-gynhyrchu, drwy gynhyrchu ac ôl-gynhyrchu. Dyma'r cyntaf o raglen ddwy ran, a byddem yn argymell yn gryf eich bod yn ymuno â ni ar gyfer y ddau os gallwch, wrth i'r ail sesiwn adeiladu ar y sgiliau a ddatblygwyd yn y sesiwn gyntaf. Gallwch gofrestru ar gyfer yr ail sesiwn yma.
Beth yw Sesiwn Sgiliau Blaengar Dinas Yfory TeenTech?
Mae sesiynau Sgiliau Blaengar Dinas Yfory TeenTech yn helpu disgyblion i ddatblygu eu galluoedd mewn codio (drwy wneud gemau), animeiddio a llythrennedd digidol.
Mae'r pwyslais ar feddwl creadigol beiddgar gydag adborth byw gan gyflogwyr lleol a chenedlaethol.
Gallwch ddysgu mwy am Ddinas Yfory TeenTech yma
Once you have registered for an event, you'll receive a confirmation email. Please add
[email protected]
to your safe senders list to make sure that event joining details do not end up in your junk folder.
You will be sent joining details closer to the date of the event. If you need to cancel your place, please revisit this page, or you can manage all of your bookings from the My Events page.